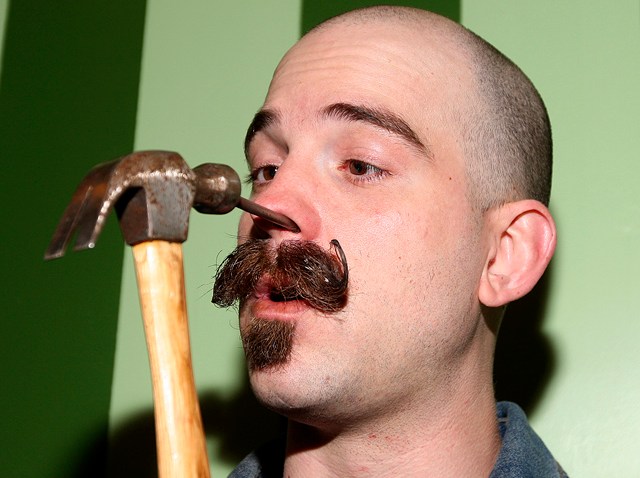 COMFORT FOOD: At Red Hook's homey eatery Fort Defiance, the coffee will be strong enough to jostle you out of your day-after state as they serve up a special New Year's Day Southern brunch menu of fried chicken and Coca-Cola ham (an actual Southern recipe), plus sides like black-eyed peas. Best part: They start serving Saturday at 9AM and go clear through to 11PM, so you can roll out of bed whenever.
ICE, ICE BABY: Look on as sentient human beings strip to their swim trunks and bikinis and jump in zero-degree water. Yeah, it makes us feel like slackers, too. The Coney Island Polar Bear Club Annual New Year's Day Swim starts at 1PM Saturday.
DARING: And speaking of Coney, you won't have to head to Brooklyn on Sunday to experience the Coney Island Circus Sideshow's ragtag crew of freaks—"Human Blockhead" Donny Vomit (who hammers nails into his face), sword-swallowing beauty Heather Holliday, etc.—when they come to Highline Ballroom to perform their death-defying feats in a midday performance. Sunday, 1PM.
TWANG: The 6th Annual New Year's Hank-O-Rama is a musical tribute to country-and-western pater Hank Williams on the 58th anniversary of his death. Scruffy band the Lonesome Prairie Dogs host a bevy of Hank lovers crying tears in their beers--at Rodeo Bar, of course. Saturday, starting at 5PM.
LIT: Start the year steeped in poetry at the beautiful Sanctuary at St. Mark's Church in the East Village. Dozens of writers, performers and other luminaries (from Suzanne Vega and Philip Glass to Eric Bogosian and Patti Smith) crowd in for the Poetry Project's 37th Annual New Year's Day Marathon Reading. Saturday, starts at 2PM.