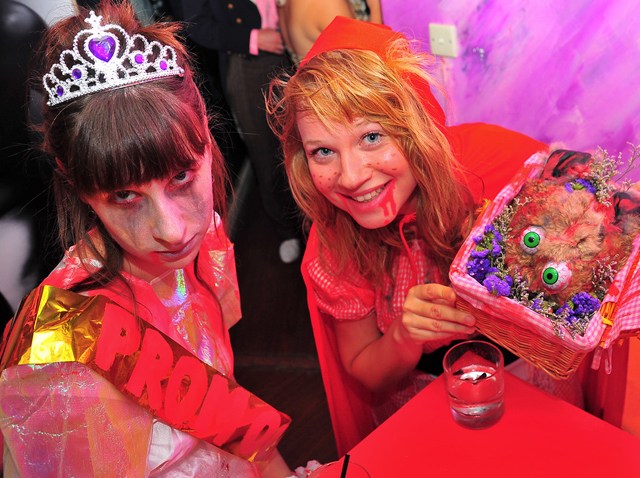 CABARET FOR THE MIND: The New York Institute for the Humanities presents the Halloween Wonder Cabinet, an all-day circus of sublime multimedia oddities from the likes of brainy art-sprite Laurie Anderson (on her days as NASA's artist-in-residence) and film editor/sound designer Walter Murch (on the music of the planets and moons). And so much more. Cantor Film Center, Saturday, 10:45AM-9PM.
PAST DO: On Halloween, head to the Merchants House Museum (dubbed "Manhattan's most haunted house" by the Times) to hear "official" MHM storyteller Anthony Bellov read selections from 19th-century horror classics and recount highlights from his paranormal research – all while you try to get comfortable in a parlor arranged for a mid-19th century funeral. Saturday, 7 and 9PM.
ALL-NIGHTER: How many Fright Night events can boast that they'll serve you everything from cocktails to breakfast? The darkly Victorian Gemini & Scorpio Masquerade Macabre runs from 9PM to 9AM, with circus acts, fortune tellers and countless more othertimely delights. Prospect Heights, Brooklyn; location with RSVP. Saturday, 9PM.
EARLY TO RISE: While it's possible you might not be quite up-and-at-it at 9AM on Sunday, that's when Gowanus' Pacific Standard will be opening its doors for the annual Marathon Viewing Barbecue. Sip $7 Marathon Marys and tamp your Halloween hangover with goodies – meaty and or veggy – from the sidewalk barbecue station, as you watch the runners go along Atlantic Avenue. Bloodys and burgers before 10AM. Now doesn't that beat running 26 miles and getting one of those little foil capes as your reward? Sunday 9AM onward.
DEEP PURPLE: No, the 2nd Annual NYC Cab Crush is not an invitational sport involving the taxi line at JFK. It's harvest season, and City Winery has some AAA Napa Valley Cabernet Sauvignon grapes arriving this weekend. Show up on Sunday and, quite simply, crush them. To ease the rigors of your hands-on wine-making experience, tasting stations throughout City Winery will have plenty of in-progress and finished product to sample. 2PM.
Got a tip? Email us.
Copyright FREEL - NBC Local Media