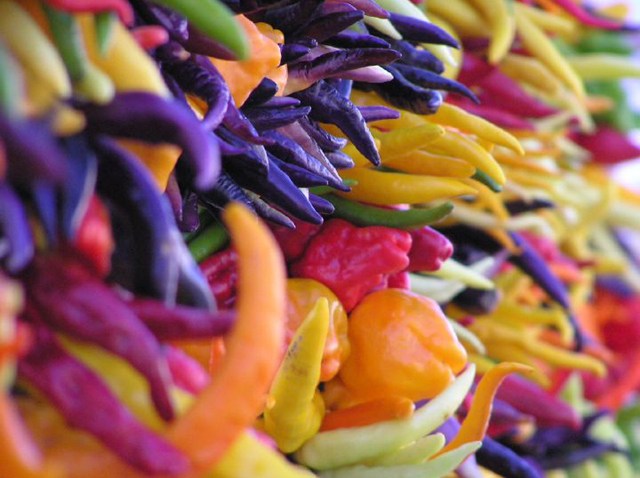 HOT STUFF: How much heat can you take? One pepper's worth? How about a whole afternoon of chili-laced chocolate, beer, chutney, pickles, cupcakes and God knows what else? Come numb your tongue at the Brooklyn Botanic Garden's Chile Pepper Fiesta, hang with a who's who of the local food world like the beardo sibs of Mast Brothers Chocolate, Matt Timms of the Take-down cookoff series, and Kumquat Cupcakery baker-in-chief Keavy Landreth. Two words: Chipotle Ale. All that, plus live music and much more. Saturday, 12-6:30PM; full schedule of events here.
STIRRING: We cotton to the idea of an educational drinking experience, and the first-ever Manhattan Cocktail Classic is that in a nutshell – or a highball: Two days of events, seminars and meet-ups celebrating the "history, contemporary culture, and artful craft of the cocktail." Take notes at serious-sounding sessions such as "The Many Faces of Cognac & Armagnac" or "Sherry: The Cobbler and Beyond, " belly up to the festival's official bar at Astor Center, or go all out at the Sunday Spectacular, where master mixologists from the city's renowned salons of swizzle – like Death & Co., the Clover Club, and so on – will peddle their wares as live big band music blares. All weekend; full schedule here.
STEP RIGHT UP: Come for the fresh Maine lobster and North Haven Oysters, stay for the live jazz and egg creams: At long last, the Brooklyn Farmacy – a locavore grocery-slash-soda fountain opening in the 1920s Vermont Pharmacy space at Sackeet and Henry Streets in Carroll Gardens – opens its doors with a bang on Saturday, 4-10PM.
STREETLEVEL: You say you've had your fill of tube-socks-and-arepas street fairs? The Atlantic Antic is the one asphalt happening that puts those to shame. Sample eats from restaurants and bars all along the avenue, soak up live sounds from the likes of Bill Carney's Jug Addicts, Les Sans Culottes and Popa Chubby, and browse flea market finds from the last of At-Ave's antique stores. And about a thousand other things. Sunday, 10AM-6PM, full schedule here.
PEEL AWAY: The 7th Annual New York Burlesque Festival ain't over yet, kids. Murray Hill hosts the Saturday Spectacular at B.B. King's – the anchor of the fest, with dozens and dozens of performers whipping their satin gloves at you 'til you beg for mercy – and on Sunday, the 2009 Golden Pastie Awards at (Le) Poisson Rouge honor the year's greatest achievements in grind. See the full schedule of performers here.
Got a tip? Email us.
Copyright FREEL - NBC Local Media