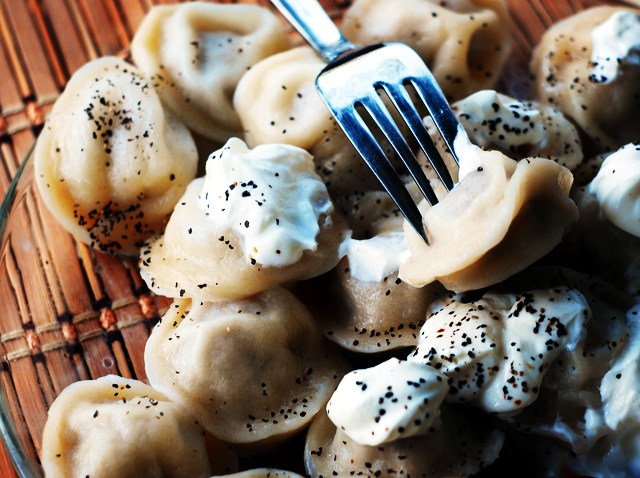 BITE ME: Dumplings are kind of the cupcakes of the savory world: They're petite, everyone makes their own version, and fans will travel almost anywhere to get some. Which is why this weekend's Dumpling Festival, presented by Chef One, is their Woodstock. Taste dumplings from all over the world (pierogi! bao!), cheer on eaters in the dumpling-eating contest and more at the L.E.S.' Sara D. Roosevelt Park, Saturday, 12-5PM.
FULL HOUSE: For a new Comedy Central segment, "The Daily Show"'s John Oliver hosts three nights of standup packed with high-profile names: Mary Lynn Rajskub, Brian Posehn, Kristen Schaal, Janeane Garofalo, Hannibal Buress… we just got a little winded there. It all goes down at NYU's Jack H. Skirball Center for the Performing Arts. Friday-Sunday; schedule varies, more info here.
COUNTRY STYLE: New York goes all Mayberry once a year when the Pumpkin Festival takes over Central Park: There'll be hayrides, a just-like-the-real-thing pumpkin patch where you can go pick (out) your own, plus a scarecrow design event, seasonal edibles from greenmarket vendors and more. Central Park by 72nd Street, Saturday, 12-5PM.
FEED ME: On Saturday night, it's just you, Seymour, a carnivorous singing plant and a couple hundred happy drunk ex-high school musical nerds: "Little Shop of Horrors" gets its very own singalong screening at 92Y Tribeca. All together now: "Somewhere that's greeeeeen…" 11PM.
WHEELS UP: This is the last full weekend you'll have access to tasty delights from the Red Hook Ball Fields vendors, because the season wraps on October 31. Go and load up on crispy huaraches, because those huarache- and horchata-free winter nights are going to be long. All weekend; check out this Serious Eats primer for more info.
Got a tip? Email us.
Copyright FREEL - NBC Local Media