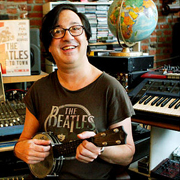 There are Beatles fans, and there are Beatles fans. And then, one tier beyond that, there's Brooklyn music producer Roger Greenawalt, who thought, gee, wouldn't it be swell to stage a festival where we arranged the entire Paul/Ringo/George/John catalogue – all 185 songs – for ukulele?
Greenawalt is behind the 3rd Annual Beatles Complete on Ukulele Festival, taking place at Brooklyn Bowl on Saturday January 15 and Sunday 16, with six straight hours of Beatles songs being played each day. He won't be the only musician on hand—dozens of special guests (like Nellie McKay and Leah Siegel, who sings in this NY1 video preview of the fest) are slated to perform. (Check out some of the podcasts featuring Greenawalt and guests at beatlescompleteonukulele.com, where he's re-recording all 185 originals with 185 different singers and releasing them weekly on the site and on iTunes.)
Even you can join in: Bring a uke to the show and you'll not only get in for free, you'll also get to jam onstage on All Together Now and Why Don't We Do It in the Road (both in the key of C).
Greenawalt is predicting about 100 ukuleles—the "uke mob," as he calls it—at this third installment of the fest, which got its start when the musician turned to the instrument to lift his spirits after Sept. 11.
And it's all for a good cause: Money raised gets donated to a notable public figure, who then distributes it to a charity of his or her choice. Past recipients have included Yoko Ono and Warren Buffett (the latter put it towards uke lessons for teen girls in Omaha). This year's beneficiary? Facebook founder Mark Zuckerberg.
If Beatles songs and an instrument that conjures images of a barefoot Don Ho don't seem ready bedfellows to you, consider this: "All advanced people spiritually are into ukulele," Greenawalt said in a SXSW interview. "The most spiritual Beatle of course was George—and at the end of his life, he was so into ukulele that he used to fly with two ukuleles as his carry-on baggage, in case he met someone on the plane who played ukulele, too."
Brooklyn Bowl is giving away 2 free tickets to the event via Facebook and Twitter; details here.
The 3rd Annual Beatles Complete on Ukulele Festival. Saturday, January 15, doors/show at 6PM (Uke Mob gathers at 5PM); Sunday, January 16, doors at 12PM, show at 2PM (Uke Mob gathers at 1PM). Brooklyn Bowl, 61 Wythe Avenue, Williamsburg, Brooklyn; 718-963-3369. Tickets $10, available here.
What I'm listening to: Sinnerman - Nina Simone