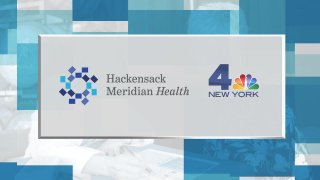 The following content is created in consultation with Hackensack Meridian Health. It does not reflect the work or opinions of NBC New York's editorial staff. Click here to learn about Hackensack Meridian Health.
In the coming months, Hackensack Meridian Health experts will be sharing exclusive health and wellness tips as featured guests on NBC programming including Sports Final and New York Live. You will also have a chance to hear from Hackensack Meridian Health experts during Facebook Live sessions covering important health topics for you and your family.
Hackensack Meridian Health is committed to providing our community with a range of resources to keep you on a GamePlan for Health. Please click here to download your personalized GamePlan containing recommended health screenings, exercise regimens, nutritional tips and more.
Hackensack Meridian Health's Health Hub offers the latest health and wellness news from expert physicians throughout our health network. The Health Hub is continuously updated with helpful wellness tips, nutritional advice, testimonials and other resources to keep you on your health journey.