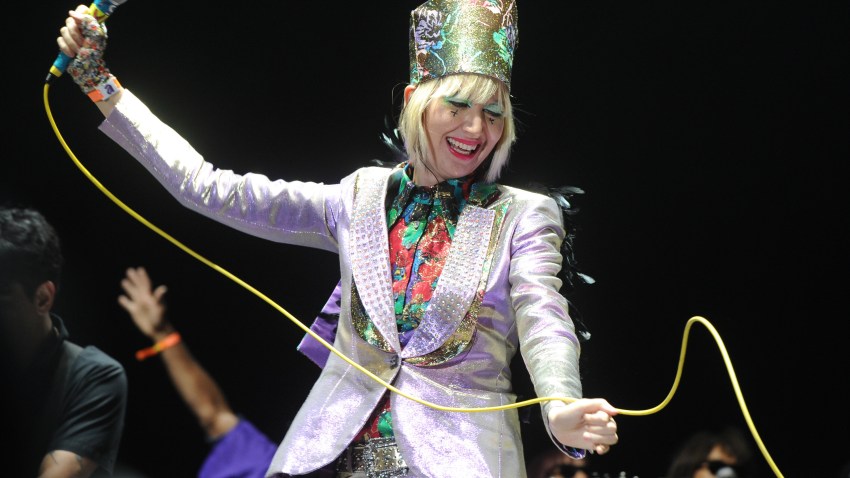 Thursday, May 16 at Bowery Ballroom, Kurt Vile, Angel Olsen, $20
Now, we're not saying that the weather purposefully stayed dreary and cold until the exact day that Kurt Vile's new album Wakin On A Pretty Daze was released a few weeks ago. That would be a bit silly. But if the primal forces that govern our meteorological systems did insist that they would keep the sunshine away until there was an album suitable soundtrack for fully absorbing all the beauty and warmth that the world has to offer, well, they could hardly have picked a better album than the Philadelphia songwriter's latest batch of gooey psych folk. Though Vile is the sort of artist made for outdoor settings, he will still bring the light even in the cavernous surroundings of the Bowery Ballroom.
Thursday, May 16, at Glasslands, No Joy, Weekend, Grand Resort, $10
No Joy are an inaccurately named Canadian duo who will cover you in a blanket of warm, reverbed-to-the-max shoegazer guitar tones and lush, drawn-out melodies. For just two people, they make enough noise to fill out rooms twice the size of Glasslands. Get there early for Weekend, who have a name that is easily mistaken for a few acts but who are also very good at the whole "lulling waves of sound" thing.
Friday, May 17 through Sunday, May 19 at Prospect Park, Great GoogaMooga, Free-$49.50
Last year's initial Great GoogaMooga food and music festival had a number of problems, from overcrowding to overly long lines for food. But the organizers have promised that this year's edition will run much smoother. It will also have more vegetarian options, which was one of the biggest complaints about last year's edition. If you feel like giving them a second chance, they've put together a compelling line-up. The festival kicks off on Friday with a ticketed performance by The Darkness, Yeah Yeah Yeahs and The Flaming Lips, which is a hard bill to turn down. The rest of the weekend will be free, and will feature performances from Matt & Kim, Father John Misty, Sharon Van Etten, De La Soul and Sharon Jones & The Dap-Kings, as well as food from a million eateries, including a wonderful-sounding place called Baconland. Everybody makes mistakes, but how many people make up for it by calling in The Flaming Lips and a place called Baconland? (We repeat, there will also be more vegetarian options this year.)