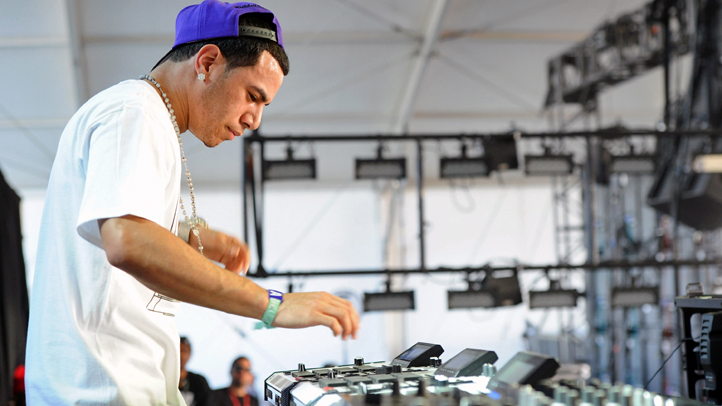 Tuesday, April 9 at Glasslands, Saturday, April 13 at Music Hall of Williamsburg, Jamie Lidell, Ludwig Persik, $20
There's a lot of reasons to make it out to either of these shows. Jamie Lidell has the best blue-eyed soul voice in the business (sorry, Timberlake), his skill with cutting up and remixing tracks on the fly is something you have to see to believe, and based on his most recent self-titled release, his ear for hooks and thick bass is just getting keener with age. But, seriously, the No. 1 bullet point is seeing this man dance. Words aren't going to do it justice. Just trust us that you've never seen such unfettered joy. You'd think it'd be gawky and "funny" but it's honestly kind of amazing to see this British Intellectual looking dude just cut loose up there. Trust.
Wednesday, April 10 at Output, AraabMUZIK, $30
Abraham Orellana a.k.a. AraabMuzik got his start making drifty, hazy instrumental music that got tagged "cloud rap," which is kind of a silly term, but is probably a more succinct phrase than "music to listen to while drifting off on a sunny day but that also has a strong beat to it." His 2011 release Electronic Dream was something of a high-water mark for this particular style, but as of this year's For Professional Use Only, Orellana seems more interested in completely schooling heads (and dance floors) with rushes of low end and chopped up beats that refuse to let you drift off. You'll most likely get a mix of the hard stuff and the soft stuff at his set at Output, Greenpoint's newest dance outpost.
Thursday, April 11 at Music Hall of Williamsburg, Marnie Stern, Talk Normal, Speedy Ortiz, $12
This bill is almost presents a short story about artistic progression. Talk Normal's unfettered, knotty, feedback strewn art punk is one of the spectrum. It's the work of young people out to get a reaction, no matter what. Marnie Stern is four albums deep in to the game, and on her great new album The Chronicles of Marnia, she takes the basic building blocks that Talk Normal work with (wild time signatures, piercing guitar shards) and finesses them into anthems that feel like classic rock but still sound like chaos. Both approaches are great, but also squarely of their time in an artist's life, which is why you should make it out to the show in time to catch the entire bill.
Saturday, April 13 at The Bell House, The Sonics, Rye Coalition, DJs Mr. Robinson and DJ Honky
This show is a benefit for Norton Records, the New York-based garage rock'n'soul label whose warehouse was badly damaged by Hurricane Sandy. The good people at Dig Deeper, one of Brooklyn's premiere garage and r'n'b parties, has put together this bill to help Norton out, and they've recruited legendary protopunks The Sonics (who arguably have one of the definitive versions of "Louie Louie") and Jersey smart aleck punks Rye Coalition. Neither of these two play out all that often, so don't miss out on this one.