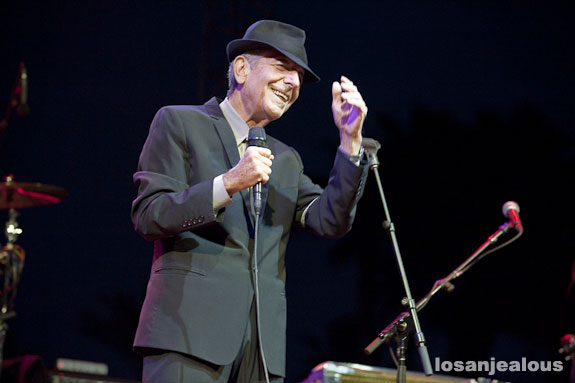 Leonard Cohen, Dec. 18, Madison Square Garden, Dec. 20, Barclay Center, $29.50-$254.50
Leonard Cohen famously didn't tour for 15 years before returning to the road a few years ago, a jaunt that eventually got everyone's favorite morose Canadian poet motivated enough to release this year's excellent album Old Ideas and tour even more. So if you didn't get to see him in 2009 (which is understandable as those tickets went quick) then you get another chance this week. I know you're sick of hearing "Hallelujah," but you should probably see it once performed by the man who actually wrote it, because it will probably be transcendent.
F***** Up, Lemuria, Night Birds, Parquet Courts, Dec. 21, Warsaw, $20
You know, if the world really does end this Friday, you'll be pretty pissed. All those dreams you never had the chance to fulfill, all those Christmas presents you didn't get to unwrap. So why not vent your anger at this unofficial Mayan Apocalypse Ball? F***** Up's shows are a reliably potent blend of catharsis and hilarious stage banter from the incomparable Damian Abraham, which will come in handy if the world does end, as someone will need to lighten the mood.
Sufjan Stevens, Sheila Saputo, Dec. 21, Bowery Ballroom, $20
Sufjan Stevens takes Christmas very, very seriously. The man just released Silver & Gold, his second box set of Christmas songs, which includes covers of standards like "Good King Wenceslas" and originals like "Even The Earth Will Perish And The Universe Give Way," which certainly sounds seasonal. There's also Joy Division and Prince covers on this thing, for some reason. Then there's the matter of Chopped & Scrooged, his recent holiday rap mix tape, which actually exists. Fortunately, the man sings like one of the angels heard on high, and has enough of a sense of humor about this sort of thing to throw a song called "That Was The Worst Christmas Ever" in to the mix. Should this all sound like too much holiday spirit for you, then paradoxically enough you clearly need to attend this thing (subtitled "The Surfjohn Stevens Christmas Sing-A-Long Seasonal Affective Disorder Yuletide Disaster Pageant On Ice," though we doubt it's actually on ice) and get some cheer in to your life.