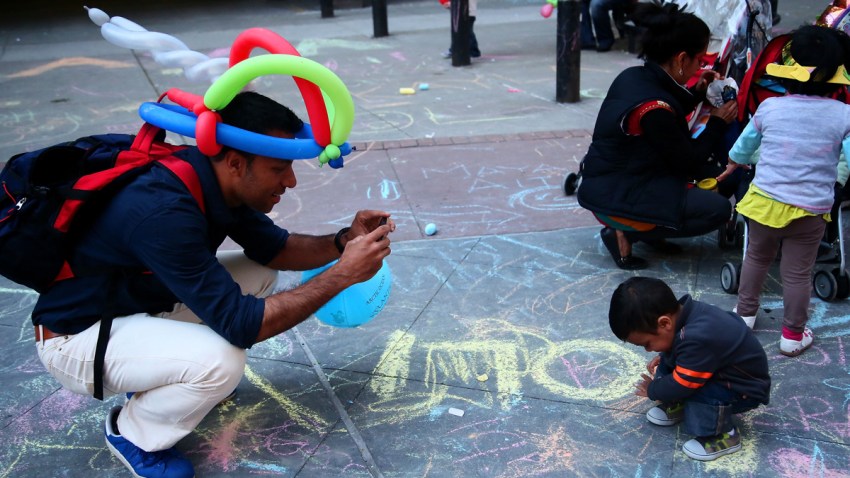 The words "Tribeca" and "Film Festival" may go hand-in-hand, but that doesn't mean it's exclusive to film lovers only. There's plenty of fun for the whole family at Tribeca Film Festival's free community events -- check them out below.
Tribeca Drive-In Outdoor Screenings
Thursday-Saturday, April 17-19 (8:15 p.m.; doors open at 6 p.m.) Brookfield Place
The Tribeca Drive-In movie series features three films over three days on the waterfront plaza at Brookfield Place. Bring the little ones for a 50th anniversary screening of the Disney classic "Mary Poppins" on Thursday, April 17, and celebrate the 30th anniversary of "Splash," starring Tom Hanks, John Candy and Daryl Hannah on Friday. On Saturday, be sure to view the world premiere screening of the soccer documentary "Next Goal Wins."
Tribeca Family Festival Street Fair
Saturday, April 26 (10 a.m.-6 p.m.) Greenwich St. (between Chambers St. and Hubert St.)
Highlights of the eight-block-long Family Festival Street Fair include the Food Feast Stage where foodies can catch a glimpse of neighborhood chefs sautéing on a live show kitchen stage; the Games for Change Public Arcade where the whole family can play games centered around positive social change; and, the Tribeca Studios Backlot which is a street-long interactive movie set.
Also, let your creative juices flow in the Arts & Crafts pavilions, see special performances from current Broadway shows and try some of Tribeca's best eats!
Tribeca/ESPN Sports Day
Saturday, April 26 (10 a.m.-6 p.m.) N. Moore St. (between Greenwich St. and West St.)
Sports fans of all ages are going to love the Tribeca/ESPN Sports Day, which will be happening right around the block from the Street Fair. From sports-themed activities including baseball, sailing, golf and Frisbee, to meetings with New York sports stars and mascots, there's something for everyone!
Tribeca Family Screenings
Sunday, April 27 (3:30 p.m.) SVA Theatre, 333 W. 23rd St.
For the 11th year, the Tribeca Family Festival is presenting "Downtown Youth Behind the Camera," a program of short films made by elementary and middle school students in New York City. This popular program gives young emerging filmmakers an opportunity to showcase their creativity and encourage their passion for film.
Other family screenings include:
"The Wizard of Oz"
Saturday, April 26; 11 a.m.
BMCC/Tribeca Performing Arts Center (199 Chambers St.)
TFI Presents
Saturday, April 26; 1 p.m.
Tribeca Film Center (375 Greenwich St.)
StoryCorps: "Stories in Animation"
Saturday, April 26; 3 p.m.
Tribeca Film Center (375 Greenwich St.)
For a full list of family-friendly community events and attractions, click here.