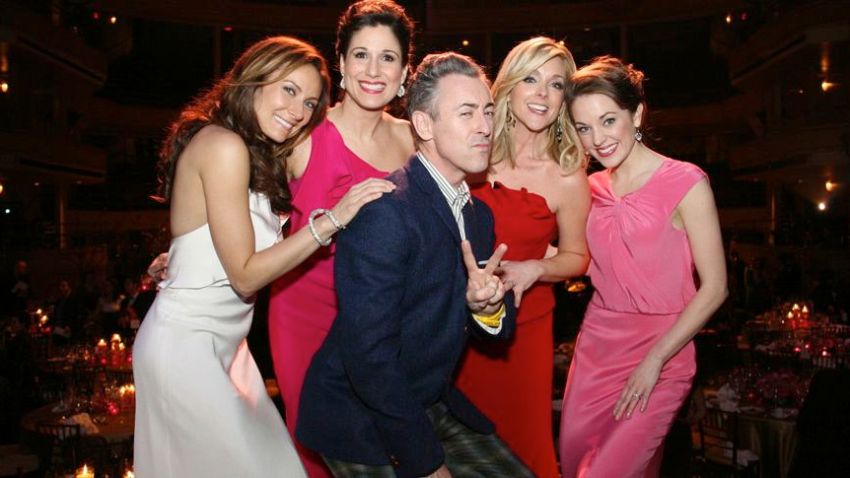 Alan Cumming, a Tony winner as the emcee in the Roundabout Theatre Co.'s "Cabaret," on Monday night hosted the company's spring gala at Hammerstein Ballroom.
Roundabout Artistic Director Todd Haimes was guest of honor at the event, "A Celebration of Your Favorites," which honored his 30 years leading the company. The evening included a one-night-only concert by four Broadway leading ladies, all of them Roundabout alums: Laura Benanti ("Gypsy"), Stephanie J. Block ("Drood"), Laura Osnes ("Cinderella") and Jane Krakowski (TV's "30 Rock").
Krakowski, a Tony winner for the company's 2003 revival of "Nine," sang a finale dedicated to Haimes, a rewritten-for-the-occasion take on "I'm Still Here." The tribute was directed by Lonny Price and had musical direction by the legendary Paul Gemignani.
Guests included Alec Baldwin, Carla Gugino, Cynthia Nixon, Victor Garber, and Santino Fontana, Osnes' co-star in "Cinderella."
Baldwin, who arrived with wife Hilaria Thomas, chatted with Vanity Fair about his appearance on last weekend's "Saturday Night Live," where he helped induct host Justin Timberlake into the "Five-Timers Club."
"I just think that Justin is one of those rare birds where it's, like, what a shame that he's such a musical superstar, because he really could have a great career as a movie star," Baldwin told VF Daily's Bennett Marcus.
"He could be doing 'Hangover' movies and crazy rom-coms to his heart's content. I mean, he can do anything. But you always see those musicians, it's like they have that little side job that they've got to go do."
Guests departed the high-octane auction and dinner with a limoges porcelain tray imprinted with the Roundabout logo, commissioned by mcgarrybowen chief executive Bill Borrelle.