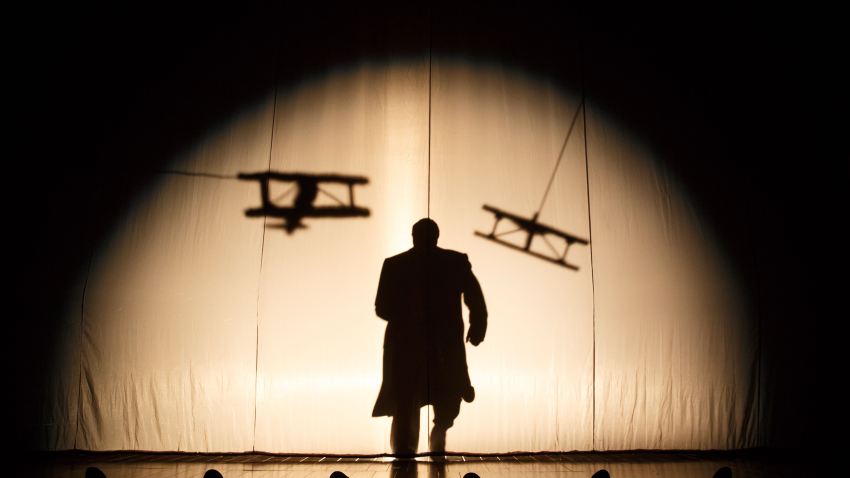 Every audience member wears a second hat as set designer in "39 Steps," the snappy Hitchcock homage which recently returned to New York after a three-year, three-theater Broadway run, during which it earned a half-dozen Tony nominations.
Even after a subsequent stint Off-Broadway at New World Stages, producers believe there's demand for more—thus this latest staging, now on the boards at the Union Square Theater, where the "The" in front of "39 Steps" has been dropped, in the spirit of the whole minimalist shebang.
With just a few chairs or suitcases on a bare stage, the production asks theatergoers to imagine the action, including a chase atop the Flying Scotsman train and a bi-plane crash that's a sweet ode to "North by Northwest." The task is made practically effortless by a finely tuned ensemble that includes original cast member Arnie Burton as one of two clowns playing 100 roles between them.
A comedy in the guise of an espionage thriller, "39 Steps" features four actors portraying all the characters from the 1935 Hitchcock thriller. Chief among them is Robert Petkoff (Broadway's "All the Way") as Richard Hannay, a lonely bachelor who gets more than he bargained for during a night out at the music hall, when a woman (Brittany Vicars) fires a gun and tells him two men are trying to kill her.
Patrick Barlow's adaptation (he works not just from the movie, but several earlier novels and plays) is a parody of Hitchcock conventions: the accused-but-innocent man, the possibly treacherous blonde, the unreliable police and so on.
Familiar Hitchcock references spice the 100-minute script—there are obvious nods to "Strangers on a Train," "Rear Window," "Vertigo" and "The Man Who Knew Too Much." "The Birds" is referenced with a row of crows on a signpost. "Psycho" is attended to with a vignette behind a shower curtain. The master-of-suspense director even makes his requisite cameo.
The actors use body movements to create the jittery rocking and lurching of a train or police car, or the howling of wind through the door of a lonely cottage on the moors.
Petkoff's Hannay sounds a little like John Cleese in one of his exasperated straight-man turns from "Monty Python" or "Fawlty Towers." I loved him as the gradually disillusioned Hubert Humphrey opposite Bryan Cranston in last year's Tony-winning best play, and he's equally entertaining to watch here, a charming hero fallen victim to circumstance.
Vicars, making her New York stage debut, evokes Madeline Kahn in "Clue" in her early scenes as as Annabella (she plays three roles in all), while managing to speak with an accent that somehow calls to mind Natasha from "Bullwinkle." (The actress is pictured center, with Burton, left, and Petkoff.)
The yeoman's work is done by Burton and Billy Carter as Clowns 1 and 2, playing more roles than it's possible to follow: a hotel keeper and his wife, a pair of traveling salesman who finish each other's sentences, spies and cops. Physically and verbally, they do an enormous amount of work, and have obviously put much effort into perfecting their timing.
Tony-nominated director and Royal Shakespeare Company acting vet Maria Aitken returns to direct this production, which she also guided in London.
Lightweight, whimsical and played for laughs, the play has no moment where you're ever genuinely supposed to feel frightened for Hannay. This latest "39 Steps" incarnation is pleasingly cartoonish, and the sort of entertainment adults and sophisticated teens will find equally engaging.
"39 Steps," with an open-ended run at the Union Square Theater, 100 E. 17th St. Tickets: $39-$89. Call 800-982-2787.