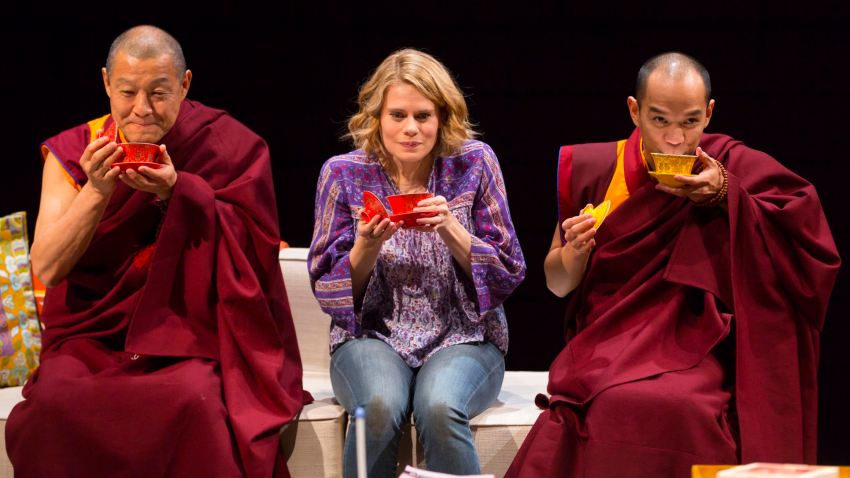 "Once you have children," wonders the mother at the center of Sarah Ruhl's affecting new play "The Oldest Boy," now at Lincoln Center, "does worry become a placeholder for thought?"
It's hardly an obtuse question, as posed by Celia Keenan-Bolger's nameless maternal figure, living an ordinary life in some anonymous American landscape. Two Tibetan monks have just arrived at this mama's door, along with a jarring revelation: her 3-year-old son Tenzin may be the reincarnation of a high Buddhist lama.
Now "Mother" and her Tibetan husband (James Yaegashi) must decide whether to send Tenzin thousands of miles away to India to begin training as a spiritual master, or to deny him this path they're being assured is his rightful destiny.
Reuniting the twice Pulitzer-nominated Ruhl with director Rebecca Taichman (the duo last collaborated on the smart backstage comedy "Stage Kiss"), "The Oldest Boy" has just opened at the Mitzi E. Newhouse Theater.
As we meet Kennan-Bolger's academic-turned-homemaker, she's forcing her body into a lotus position... and then sneaking off to get the potato chips she keeps hidden under a sofa pillow. On her coffee table is a book about attachment parenting, a notion that nicely telegraphs some of the tough questions raised in Ruhl's unconventional drama: What does it mean to let go? And to whom does a child belong? His parents? Or the world?
A recent Tony nominee for "The Glass Menagerie," Keenan-Bolger remains the focus of the two-hour narrative, struggling between wanting to hold together her nuclear family and allowing her son to become "enthroned" in a Buddhist ceremony.
As Laura Wingfield, Keenan-Bolger displayed a remarkable ability to walk a line between caution and hopefulness. It's an accomplishment she manages again here, making butter tea for her surprise visitors (James Saito and Jon Norman Schneider, both giving sweet performances), even as the potential ramifications of their visit dawn.
Also displaying remarkable range: the puppet representing Keenan-Bolger's son. Tenzin, here, is a marionette-like figure controlled by three chorus members dressed in black (Tsering Dorgee, Takemi Kitamura and Nami Yamamoto), the two silent ones akin to Japanese kuroko stagehands.
I experienced genuine joy when Tenzin recognized objects from his previous life during an "examination" by the monks, and then fear, when he was confronted with the prospect of having his head shaved. Indeed, "The Oldest Boy" is filled with equal parts levity—notably in Mother's phone calls to her own unseen mother—and heartache.
Yaegashi is earnest as the husband and father, a multilingual restaurateur who forsook his education to support his family. I enjoyed his performance most in an early scene, when he's recalling in flashback the afternoon that Keenan-Bolger stumbled into his restaurant to escape a rainstorm.
The Brooklyn-based playwright, a teacher at Yale and author as well of "In the Next Room (or The Vibrator Play)," found inspiration for the unorthodox, thoroughly pleasing story from her own Tibetan Buddhist nanny, who helps care for her three children.
For some, the play may call to mind "Disgraced," a more violent depiction of clashing cultures that was also first produced at Lincoln Center before its current widely lauded run on Broadway.
"The Oldest Boy" leaves you grappling with feelings about reincarnation, but this isn't just a tale for those of us questioning the existence of God. A parents' struggle between keeping a child safe, or letting him go into the world is as universal a theme as there is, and it's addressed here with grace and good humor.
"The Oldest Boy," through Dec. 28 at Lincoln Center's Mitzi E. Newhouse Theater, 150 W. 65th St. Tickets: $77. Call Tele-charge at 212-239-6200.