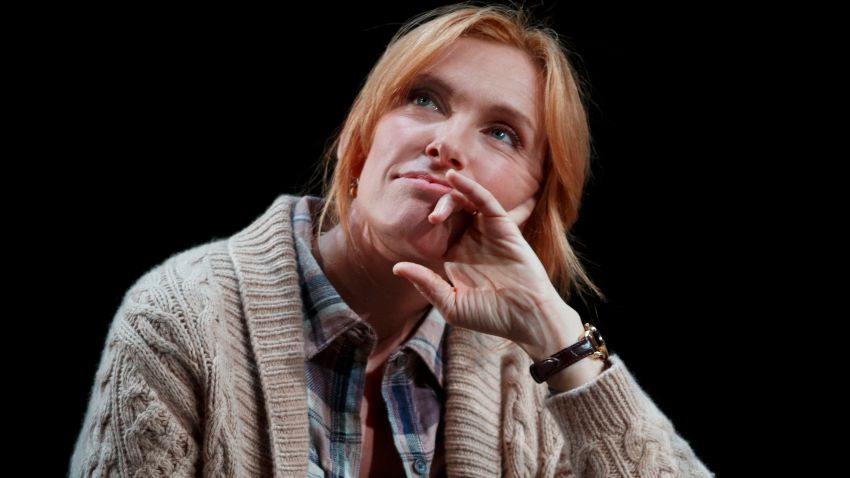 "The Realistic Joneses," a new comedy by playwright Will Eno, is one of those unbearable-lightness-of-being plays that ask: "What does it all mean, anyway?" In this case, the weighty questions of the universe are pondered by a top-notch cast: Toni Collette, Michael C. Hall, Tracy Letts and Marisa Tomei.
Now open at The Lyceum Theatre, the 90-minute, one-act piece is directed by Sam Gold, who has wowed us in the last year with "Fun Home" at The Public and with "Cradle Will Rock," part of the City Center Encores! series.
Eno was a Pulitzer finalist a decade ago with "Thom Pain (based on nothing)," which reviewers hailed for its unconventional dialogue and called "a meditation on disappointment" and "an exercise in futility" that was far more "interesting" than most plays that season. Much the same could be said of "Joneses," except that ultimately, "interesting" is in the mind of the beholder, and Eno doesn't have much new to say here: life is hard, we can't always control everything, let's go out to dinner.
Literally a play about the people next door, "The Realistic Joneses" concerns two couples with the same last name, living in a smallish unnamed town somewhere, not far from some mountains. Bob and Jennifer Jones (Letts and Collette) are enjoying—well, that's a strong word—a moonlit night on their patio, when their conversation is interrupted by the new set of Joneses, John and Pony (Hall and Tomei), who come bearing a bottle of foil-wrapped wine.
It ultimately becomes apparent both sets of Joneses are in town for the same purpose: there's a doctor there, a specialist in a rare, fictional neurological disease that sounds as if it should be a comet. "Harriman Leavey Syndrome" causes sufferers to make absurd statements—something like Tourette's, but not quite. The dialogue, unfolding across about a dozen scenes, asks us to consider truths we think we know about the characters and secrets they may be harboring.
I enjoyed an early scene, where John begins drifting to Jennifer, admitting that he had been watching her in a supermarket parking lot: "You were on the phone, crying and eating a power bar. I thought, wow … that's one sad, busy person." The trouble was, all these funny parts—and the first 30 minutes do read like a buoyant collaboration between comic Steven Wright and Yogi Berra—don't eventually add up to much of a whole.
All members of the foursome give performances much in keeping with how we've experienced them before: Tomei is spacey, Letts wields defense mechanisms powerful enough to fend off an alien attack, and so on.
Collette, of "Little Miss Sunshine" and, more recently, Showtime's "United States of Tara," here plays a control freak who's completely lost control. Her Jennifer Jones is trapped in a loveless marriage, bound by duty, with a martyr's belief that the right amount of knowledge can unravel any dilemma. Her performance is interesting, until—and this is a function of the dialogue—it becomes repetitive.
As Bob Jones, Letts, a Tony winner for last year's "Who's Afraid of Virginia Woolf?," is a man so overwhelmed by the circumstances of his life that he's chosen simply to ignore them. He's mostly the more narcissistic for it, though he displays glimmers of humanity from time to time: "You have a pretty smile," he tells his wife, in one of those rare moments … then he turns off the lights and disappears before she can thank him for the compliment.
Bob seems grateful to Jennifer, but he also expects her to take care of him. Letts's fine performance left me wondering just how far the bounds of "in sickness and in health" really go.

As John Jones, Hall suffers from a different kind of denial. The most youthful of the characters, he hasn't succumbed yet to fatalism. He has no explicable bond with Pony, and in Jennifer sees the promise of stability. Hall brings the same intensity to John that he has to his past memorable TV characters, such as Dexter etc., but again, he's working with some pretty frustrating material.
Tomei's Pony is childish and juvenile. She owns a greeting card company—who sends those anymore?—and is looking for a daddy figure. Hence, the appeal of Letts's Bob. Tomei provides plenty of comic relief, while offering a largely one-dimensional characterization.
Those who've suffered a loss of control involving their health will relate to the dysfunctional Joneses, who are here to illustrate that you can talk about your problems until you're blue in the face, but your mundane existence, like the nettlesome squirrels in Bob and Jennifer's yard, will still be there tomorrow.
Eno's ultimately too-indulgent comedy is a gentle reminder that none of us know what we are really facing, and some of us are more acutely aware of that "unknown" than others. The trouble with "The Realistic Joneses" is that it's more concerned with making the point over and over, rather than exploring anything new.

"The Realistic Joneses," through July 6 at The Lyceum Theatre, 149 W. 45th St. Tickets: $39-$135. Call Telecharge at 212-239-6200, or visit Telecharge.com.
Follow Robert Kahn on Twitter@RobertKahn