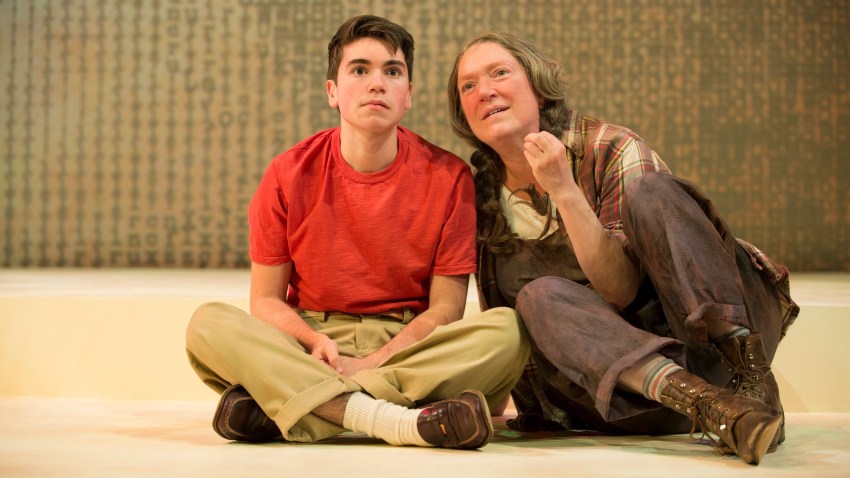 A.R. Gurney's "What I Did Last Summer" is a good-natured coming of age story set in a Lake Erie vacation colony, just as World War II is drawing to an end. It was first produced in 1981 and is now enjoying a revival at Signature Center, staged as the second play of Gurney's residency.
Charlie (Noah Galvin) has joined his mom and sister on the Canadian side of the lake. Through a drugstore want ad for a jack-of-all-trades—the boy is eminently unqualified to do anything—Charlie meets Anna Trumbull, a Bohemian artist the condescending locals call "the pig woman," because her cottage was once a pigsty.
Over a summer, Charlie comes to realize he faces two paths: he can devote himself to being dutiful to the people around him—especially his WASPish mother, Grace (Carolyn McCormick)—or take his cue from Anna (Kristine Nielsen), and focus on realizing his "potential," a word that hangs over Gurney's comedic-drama like so much August humidity.
Charlie, a stand-in for Gurney, is played by expressive young actor Noah Galvin, who will be seen soon in the Dan Savage-produced TV sitcom "The Real O'Neals." Galvin is constantly in motion, swinging his arms, shouting and shuffling his feet (presumably on the instruction of director Jim Simpson of Downtown's Flea Theater, which often produces Gurney's works).
The result is that Charlie comes across as a restless and annoying 14-year-old. It's easy to see how Galvin will be suited to a broad TV comedy, and he's certainly the center of the action here (that honorific seems up-for-grabs throughout much of "Summer": "Sometimes, I think this play is about me," or some variant thereof, is a line dashed off by most every character in the two-acter).
As Anna, Nielsen (a Tony nominee for "Vanya and Sonia …") is purposefully theatrical about her own eccentricities. It's easy to imagine how a teen would find Anna a semi-magical presence, even though Anna's reality is the "saddest" of all the characters populating these shores.
Galvin and Nielsen are both excellent actors, though at times their chemistry feels forced—they're both so involved with themselves, quirks, tics and all, that I never quite figured out whether each understood the other. Their bond is never fully cemented, and that creates problems for the play's climax.
I had an easier time with the excellent McCormick (of Will Eno's "The Open House"), who effectively conveys the isolation of a mother unsure when (or whether) her solider husband is coming home. From her, we get a sense that what an adult says isn't necessarily what an adult does.
Pico Alexander, Kate McGonigle (with McCormick, above) and Juliet Brett are the other young people in Charlie's orbit. Brett, as a teenage girl starting to understand the power of her sexuality, seems most to exist in 1945, the way she rearranges her legs and bats her eyelashes.
An on-stage drummer underscores much of the action. Most exchanges take place between characters on a bench or the floor, with stage direction imposed behind them on a screen, a thicket of sometimes indecipherable words and sentences.
I didn't enjoy "Summer" as much as "The Wayside Motor Inn," the first production of Gurney's residency, but the playwright's rhythmic dialogue is easy to fall into step with. Gurney never tries to convince us that Grace or Anna has the right moves in mind for Charlie—by summer's end, it's clear everyone's angle comes with a dark side. Charlie? At least he can grow up and write a play about it all.
"What I Did Last Summer," through June 7 at Signature Center, 480 W. 42nd St. Tickets: 25. Call 212-244-7529.