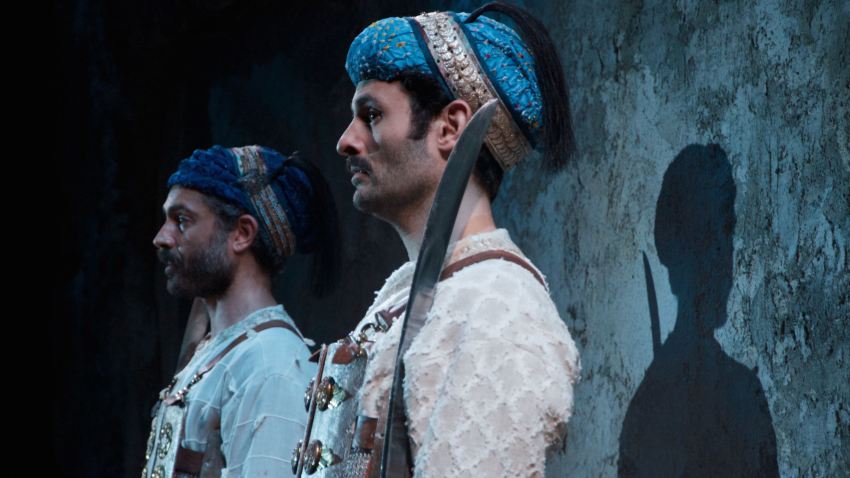 Two soldiers are asked to commit an unimaginable atrocity in "Guards at the Taj," a graphic new play by Rajiv Joseph now in a limited engagement at the Atlantic's Linda Gross Theater. Joseph is the Pulitzer-nominated author of "Bengal Tiger at the Baghdad Zoo," which brought Robin Williams to Broadway in 2011.
The Brooklyn playwright's latest work is set in 1648 India, where two Imperial guards stand watch over the Mughal emperor Shah Jahan's newly completed palace. So committed to rules and duties are they that the soldiers refuse—at least, at first—to even turn around and glimpse the imposing Taj Mahal, in the Indian city of Agra.
The timeframe not withstanding, guards Humayun and Babur (Omar Metwally and Arian Moayed) speak with coolly modern and accessible dialogue, including profanities. Their conversations begin as a meditation on beauty, but evolve into a relatable discussion of morality hinging on the idea of responsibility for one's actions.
Without revealing too much, I can say that the plot turns on a moderately well-known fable involving the 20,000 construction workers who built the complex under the guidance of architect Ustad Ahmad Lahauri.
Actors Metwally and Moayed have a breezy rapport—it's their ease and comfort that makes "Guards at the Taj" such a nail-biting and urgent entertainment. Metwally ("Sixteen Wounded") is the more strait-laced and obedient of the two. Moayed ("Bengal Tiger") is more fragile and full of startling ideas.
In the first scene, the actors merely talk in front of a gray wall. A jolting reveal comes in the second, and it's a magnificent bit of theatrics, though not for the squeamish. The action occurs chronologically, except for a coda, which clarifies the nature of the duo's friendship.
I found "Guards at the Taj" easier to process than Joseph's recent play "The North Pool," which ventured into notions of ethnic-profiling and terrorism.
"Guards at the Taj" comes in at 80 minutes and is tidily directed by Steppenwolf's Amy Morton, the Tony-nominated actress of "Who's Afraid of Virginia Woolf?" and "August: Osage County." It's a well-crafted meditation on friendship and loyalty that calls to mind more contemporary ideas of men who have committed heinous acts simply because they were following orders.
"Guards at the Taj," through June 28 at the Atlantic Theater Company/Linda Gross Theater, 336 W. 20th St. Tickets: $20-$86.50. Call 866-811-4111.