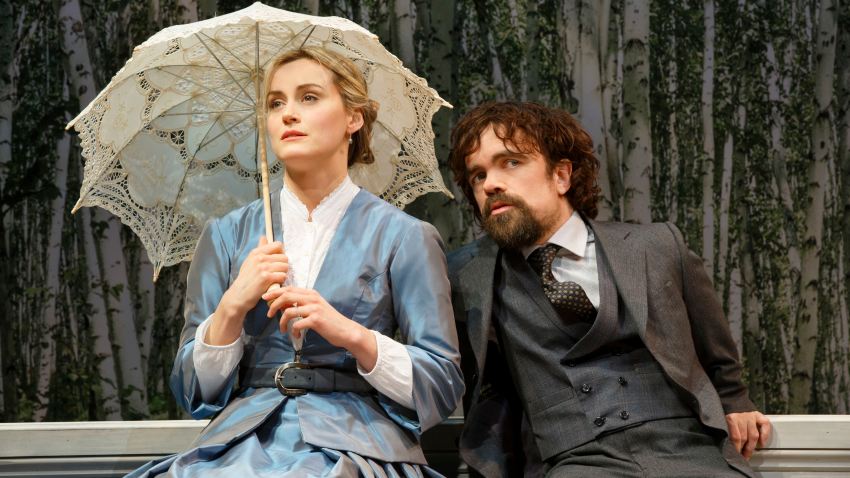 Love is out of reach for everyone in the Classic Stage Company's first-rate revival of "A Month in the Country," the mid-19th century Ivan Turgenev play that's equal parts comedy and heartbreak.
Taylor Schilling, of TV's "Orange is the New Black," heads a cast of recognizable small-screen talents as Natalya Petrovna, the wife of a neglectful land baron who finds herself drawn to a young tutor she's hired to care for her son. Harboring years of unrequited feelings for Natalya is her best friend, Mikhail (Peter Dinklage, of HBO's "Game of Thrones").
The leads are surrounded by a gaggle of supporting characters, including a nudgnik doctor and Natalya's teenage ward, Vera, who becomes her romantic rival.
Schilling, making her New York stage debut, is excellent as a woman who surprises herself with the lengths she'll go to in order to attract handsome instructor Aleksey (Mike Faist of "Newsies"), who appears immune to her charms.
As the friend-zoned pal, Dinklage brings frustration and insight to the stage, such as when he recognizes Natalya's budding infatuation before even she does: "Recently, you have been in a state of constant irritability. Even you are confused by it …."

Anyone who's even been in Mikhail's shoes will find him relatable.
Faist is effective as the tutor straddling the line between boyhood and manhood, painfully concerned with the impact he has on others, while unaware he's the source of the frustration. Megan West (murdered student Lila Standard on TV's "How to Get Away with Murder") is well-matched as Vera, a vulnerable yet self-aware young woman learning she can't trust her caretaker. (The pair are pictured below.)
It was most fun to watch Thomas Jay Ryan ("The Temperamentals") as Shpigelsky, the by his-own-counts mediocre doctor who sets out to marry off Vera to a local buffoon for his own selfish gains. Ryan is exceptionally well cast as a character who gets what he wants without concern for how foolish he looks in the process.
Anthony Edwards, of TV's "ER," is appropriately clueless as Natalya's husband, Arkady, though the part doesn't give him much of a chance to stretch. It's also lovely to see Annabella Sciorra (Tony's one-time girlfriend on "The Sopranos") and Elizabeth Franz (a Tony winner for 1999's "Death of a Salesman"), both of whom are delightful in supporting roles.
Erica Schmidt, wife of actor Dinklage, directs the production, which comes in at just over two hours. "A Month in the Country" uses the CSC's narrow confines to advantage. A gray overhand suspended from the ceiling keeps the action tightly framed.
Turgenev's play, adapted here by John Christopher Jones, has a Chekhovian sense of form -- nothing is very fair, and those looking for tidy resolutions should turn their attentions elsewhere. Ultimately, as Arkady observes, everyone who is wounded takes off "like a flight of starlings, and all because they're good, honorable people." You won't know whether to laugh or cry as they run away from their feelings, but it's sure a treat to watch them flee.
"A Month in the Country," through Feb. 21 at Classic Stage Company, 136 E. 13th St. Tickets: $75. Call 212-352-3101.