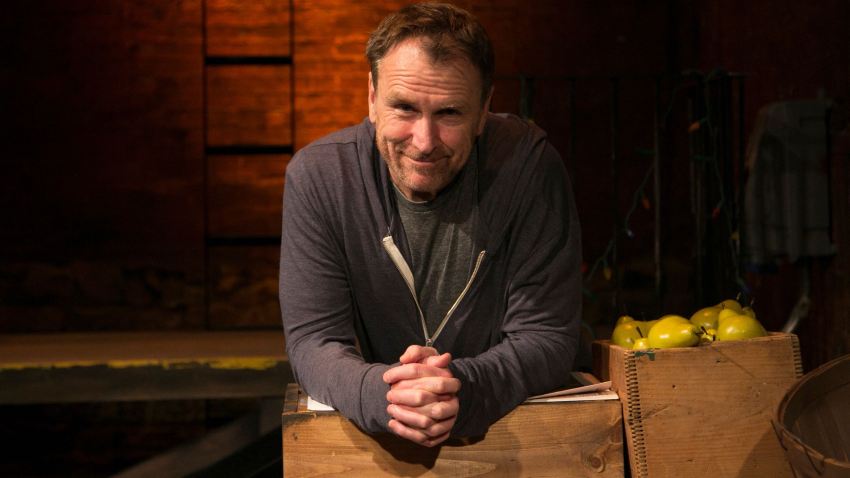 New Yorkers have become so wary of offending people that we're afraid to acknowledge our differences, Colin Quinn argues in "The New York Story," a sage and snappy stand-up outing now on the boards at the Cherry Lane Theatre.
Jerry Seinfeld directs the hour-long tirade against homogeneity, which is based on Quinn's race relations-themed memoir "The Coloring Book." Seinfeld also guided the former "SNL" comic in his 2010 Broadway show "Long Story Short."
Performing on a stage gussied up to look like the stoop of a brownstone, Quinn -- currently featured alongside Amy Schumer in "Trainwreck" -- satirically riffs his way through the history of the city's settlers beginning with the Dutch, whom he says brought the "abrupt" language still in our system today.
"You see people from other places walking around asking nicely, 'Excuse me, where's the museum?' … But people from New York just accuse you of information: "Where'd you get the ice cream?"
Jews, Germans, Puerto Ricans and more come up for examination, but "The New York Story" is no stream of takedowns: It's both an affectionate look at stereotypes that are funny because they're true, and a lament that we tiptoe around things that make us unique.
Who's too ho-hum for his own good? Mayor de Blasio, for one.
"Koch, whether you liked him or whether you thought the city was a wreck, you knew he had no speechwriters," Quinn says, segueing into an imitation of the late politician arguing with "yentas" at the Kew Gardens Senior Center: "You're being rude … I should've gone to Rego Park."
"De Blasio," he adds, "there's just no personality."
Quinn has got sharp observations about the subway, "the great equalizer," but complains even that has lost its personality. In the gentrifying neighborhoods of Brooklyn, he says, "if you get on the L train at 2 o'clock in the morning, it looks like a ski lift."
Meanwhile, anyone who has ever stood on the 7 train will admire Quinn's analysis of predicting seat availability on the line traveling through the polyglot neighborhoods of Queens.
"You go on the 7 train and you can tell by what they're reading when they're going to get off. … If someone is reading The Irish Echo, they'll probably get off at 40th -- stand next to them! … Asian newspaper? Don't even bother. You aren't getting a seat."
In Quinn's world, the waves of Italians who came to the city bring "the volume," the Puerto Ricans "the pace" and the blacks "defiance," "like the Medici coming in to check on Michelangelo." The Jews? They came in 1880, and "I think it's safe to say most have not recovered from the boat trip yet."
Quinn's monologue is mostly lean and bracing. A closing jab intended to point out the perils of political correctness was a bit too rambling and cute for my taste, but I'm nitpicking. Overall, he makes a really strong point that -- who knows? -- could just embolden some to let down their guards a bit.
"We tell people, 'Celebrate diversity!'" Quinn says. "But at the same time, be careful not to point out people's ethnic differences!" Now, he says, "we're all just, basically, bland."
"The New York Story," through Aug. 16 at the Cherry Lane Theatre, 38 Commerce St. Tickets: $65. Call 866-811-4111.