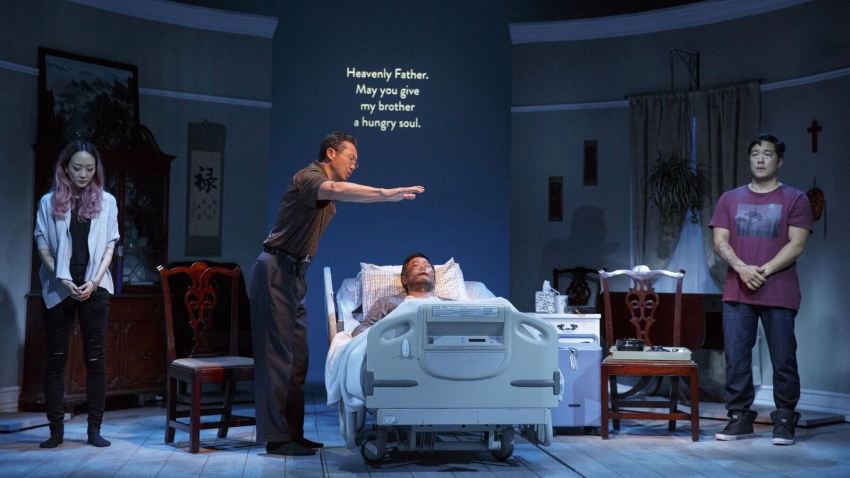 Like memorable popular culture narratives before it—"The Joy Luck Club" and "Like Water for Chocolate" come to mind—"Aubergine" contemplates the ways food communicates for us when words fail.
Julia Cho's latest drama, having its New York premiere at Playwrights Horizons, introduces us to Ray (Tim Kang), a chef grappling with the realities of his father's approaching death from liver disease. Ray's dining room has become a makeshift hospice, where his widower parent lies breathing laboriously in a hospital bed.
Ray has gone to extremes to earn the respect of the older man, once preparing for him an elaborate multi-course tasting menu. But the father, whose name is only mentioned in Korean in passing, has a joyless attitude toward eating, and bridging their divide will not be as simple a matter as Ray's replicating a memorable beef and radish broth from his dad's youth.
Kang is effective as the tightly wound son struggling with what's been left unsaid between child and parent. Playwright Cho depicts both Ray's anxiety and sense of duty in ways that feel remarkably honest: Ray won't even go for a walk outside, lest he not be present for the moment his father dies.
Michael Potts is on hand as a caretaker who knows the patterns of mortality and gives Ray permission, in this heady moment, to feed his own emotional needs. A gift from Lucien to Ray provides the play's title: "Eggplant," Lucien says, "sounds like an awkward, milky white, sickly thing. But 'aubergine' … That starts to approach the beauty of the thing itself."
Joseph Steven Yang has both good humor and gravitas as the father's brother—Ray's uncle—who doesn't know English, and so communicates mostly through gestures. Sue Jean Kim is a strong and witty female presence, as Ray's justifiably frustrated ex-girlfriend, who eventually thaws when she sees Ray's father is dying.
Cho's notion of centering the play around food as a way of expressing love is potent, though she switches up ingredients in the second act and a monologue that tries to explain a key element of the father's personality threatens to unmoor the drama.
At its climax, Ray concludes his father's message was: "You are always already dead. So why not live?" It's a meaningful sentiment, but one that pulls us away from the themes of food and communication into more abstract philosophical theory. It doesn't seem quite in keeping with what we know about the father's approach to life.
"Aubergine" begins and ends with an appearance by an outsider (Jessica Love) who talks about her own father's fondness for grilled pastrami, layered onto crusty bread so perfectly toasted it would "shatter" in her mouth. The woman's ultimate intersection with Ray is just glancing, yet lends a sweet element of almost magical realism to the proceedings.
"Aubergine," through Oct. 2 at Playwrights Horizons, 416 W. 42nd St. Tickets: Starting at $75. Call 212-279-4200.
Follow Robert Kahn on Twitter@RobertKahn