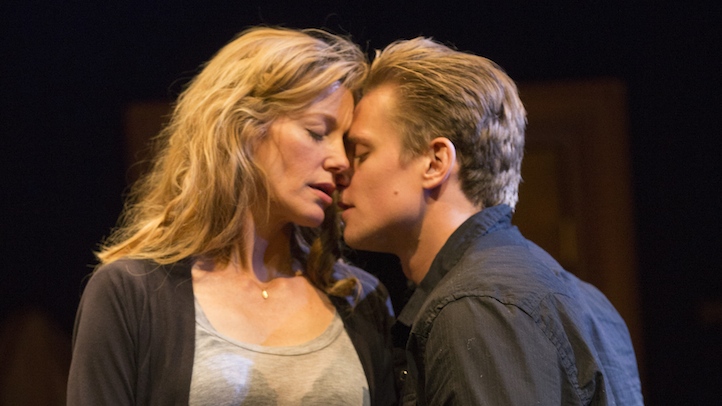 While the snow falls outside on a cold March night, a single woman sits alone inside a bed and breakfast in rural Michigan. The storm has taken out the Internet and phone lines, so our heroine has nothing but the couch and her book. Curled up under a blanket, she turns back pages between sips of a glass of wine. Suddenly, car lights flicker in the driveway. And next thing she knows, a strange man is at the door, asking to be let in.
It sounds like the plot of some horror movie, but it's really the setup of "Sex with Strangers," the delightful new play by Laura Eason now open at the Second Stage Theatre. Directed by David Schwimmer ("Detroit," NBC's "Friends"), this two-act, two-character comedy stars Anna Gunn ("Breaking Bad") and Tony nominee Billy Magnussen ("Vanya and Sonia and Masha and Spike") as two opposites you'll have a hard time not finding yourself attracted to.
Gunn plays Olivia, a 39-year-old gifted writer and humble teacher who walked away from her dream of being a full-time novelist when commercial failure and negative reviews got to her. Magnussen plays Ethan, a successful 28-year-old writer who longs to make a more substantial impact on the literary community aside from the blog and the series of books chronicling his sex life that gave him his fame. (Think a fictional version of "I Hope They Serve Beer in Hell" author Tucker Max).
They couldn't be more opposite. And "Sex with Strangers" spends most of its time dissecting the differences between their generational worldviews. The way they approach their writing. The way they approach their careers. Technology. Ambition. Honesty. Family. In every turn, there's this tug of war between Ethan and Olivia's very different perspectives.
Yet the one area they don't seem to have any conflict is in their inevitable trip to the bedroom (or in this case, the living room), which makes the sex in "Sex with Strangers" so intriguing. It's the one chance we get to see both of these characters let their guards down and truly connect. And it allows "Strangers" to tell a story of a very sweet romance, of two people who need one another to see through their own nonsense and go after the things in life they really want.
Much of the joy of "Strangers" comes in the performances. While Anna Gunn gives Olivia some of the steadfastness of her "Breaking Bad" matriarch Skyler White, fans will see a different side of Gunn here: reserved, nervous and plagued by fear -- but hopeful. On the page, we might have a hard time seeing how Olivia can easily go for someone so out of her comfort zone like Ethan. On the stage, Gunn makes us believe her courage.
Magnussen, meanwhile, has seemingly perfected the ability to make us care about characters that in real life we would normally write off. Ethan is a self-described "a-hole" -- a frat boy, playboy egomaniac. But Magnussen brings a level of sincerity, intelligence and charm to the role. You can't avoid liking and rooting for Ethan even in his darkest moments. (It also doesn't hurt that Magnussen is shirtless a few times during the show).
As for Schwimmer, his years as Ross Geller on "Friends" have clearly taught him how to pull the most out of a comedic scene. But what's surprising is how Schwimmer isn't afraid of the quieter moments. The first sexual encounter between Olivia and Ethan, for example, is so perfectly staged, you'll feel the air evaporate from the room.
The real treat in "Sex with Strangers" is Laura Eason's sharp writing. The dialogue is smart, funny and insightful without ever becoming smug. Sure, there's a bit of ease to the way all the scenarios unfold. But the discussion on personal connections and public discourse in the Internet age will hook you.
You'll relate to much of the conversation throughout "Sex with Strangers," especially when Olivia explores how anyone with any sense of insecurity can navigate the social media world of negative commenters, online bullies, and self-important millennials. What's real and what's fake? And, in this case, how can you look beyond someone's dating past when that past is sprawled all over the Internet?
If there is one place "Sex with Strangers" falters, it's in its last two scenes, where Eason feels the need to tie the story up in too nice a bow. "Strangers" would be a far more interesting play if it left the fates of its characters up in the air a bit (see: last season's spectacular ending of "Casa Valentina") and might have prevented a few moments where both actors read a little melodramatic in their delivery.
But overall, the writing, direction and performances in "Sex with Strangers" will hold you so strongly that the unsatisfying ending in no way ruins the experience that comes before it, or the ideas presented throughout. This is one romp you'll want to take.
"Sex with Strangers" through Aug. 24 at Second Stage's Tony Kiser Theatre, 305 West 43rd Street. Tickets: $75. 212-246-4422 or www.2ST.com.