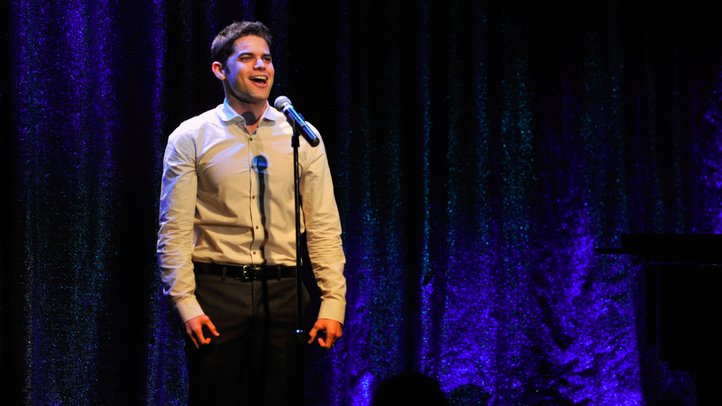 Jeremy Jordan, last seen on Broadway in his Tony-nominated turn in "Newsies," returned to the New York stage Wednesday in "A Bed and a Chair: A New York Love Affair," which runs through Nov. 17 at City Center.
The special musical event features Jordan, Bernadette Peters, Cyrille Aimée and Norm Lewis in a story set to Sondheim's music arranged and performed by Wynton Marsalis and the Jazz at Lincoln Center Orchestra. It won't be the first time the 28-year-old actor has tackled Sondheim on stage. He made his Broadway debut in the 2009 revival of "West Side Story."
It also won't be Jordan's last time singing Sondheim this year. He appears alongside the legendary composer himself in HBO's upcoming Sondheim documentary "Six by Sondheim," which takes an intimate look at Sondheim's unique songwriting style through exclusive performances of six of his most iconic songs. (The film airs Dec. 8 at 9 p.m. EST)
Jordan, who himself played a musical theater composer on the second season of NBC's "Smash," sat down with NBC 4 New York to discuss his recent Sondheim kick, how "The Last 5 Years" film is coming along, and what he thinks about the hoopla over 54 Below's sold-out "Hit List" concert.
NBC4NY: How has the rehearsal process for "A Bed and a Chair" been so far?
JORDAN: Great. We've just been trying to figure out how to integrate this jazz style while telling a story through these seemingly randomly selected songs that (director) John Doyle took in his brain and made into this really cool story. It's a poetic, complex love story. I think it's going to be something really special.
NBC4NY: Sondheim's known for his complex compositions. Is that challenging?
JORDAN: No. I know so much of it. And Sondheim's songs are so beautifully written, it's so easy to do. The lyrics are always so clever and poignant and they say so much, it's like a playground. Every song is filled with so much possibility that you can keep trying new things and experimenting all the time.
NBC4NY: Did you first meet Sondheim doing "West Side Story?"
JORDAN: No, "Six by Sondheim" actually. I got to perform with him.
NBC4NY: With him!?
JORDAN: It was just really cool. I was shooting it with Darren Criss, so in between takes, we'd all just be sitting there. (Darren and I) were just chatting his ear off and he was basically forced to talk to us because he was stuck on stage with us. It was this forced, impromptu one-on-one. But he was chill. He's a pretty humble guy.
NBC4NY: You recently completed filming on "The Last 5 Years" movie. How did it go?
JORDAN: I just saw it last week and I think it's going to be really special and remarkable. It's really unlike any other movie musical you've seen before. We still have some work to do on it -- sound-mixing, overdubbing and fixing all the things you fix on film. But I saw a very raw cut and I think it's really very cool.
NBC4NY: Were you nervous about how that material would translate to film?
JORDAN: Well you always are. But they've really transformed this piece from a show made up of solo numbers on stage to a movie in the real world with people around. It's really cool. It can be a little confusing at first with the time jumps, in the best possible of ways. (Anna Kendrick's character and my character) are interspersed in one another's stories. At times you're not sure where you are but when you finally figure it out, it's sort of this audience catharsis.
NBC4NY: The 54 Below concert of "Hit List" sold well, huh?
JORDAN: Yeah! It was sold out in like, what, less than an hour? I mean, listen, 54 Below is a very small venue. And even though we had small ratings, millions of people watched "SMASH." So I guess I really shouldn't be too surprised. It's great to see it do so well.
NBC4NY: Are you fielding phone calls left and right from people begging for tickets?
JORDAN: People are not happy about it -- I can tell you that. People are very angry that they couldn't get in. But I'm excited to revisit this material. These songs were my favorite part of "SMASH." And getting the chance to do them live -- especially songs I never got to sing on the show, like "Caught in the Storm" -- is just really exciting.
"A Bed and a Chair: A New York Love Affair," through Nov. 17 at New York City Center, 131 W 55th St. Tickets start at $30. Call 212-581-1212 or visit NYCityCenter.org.