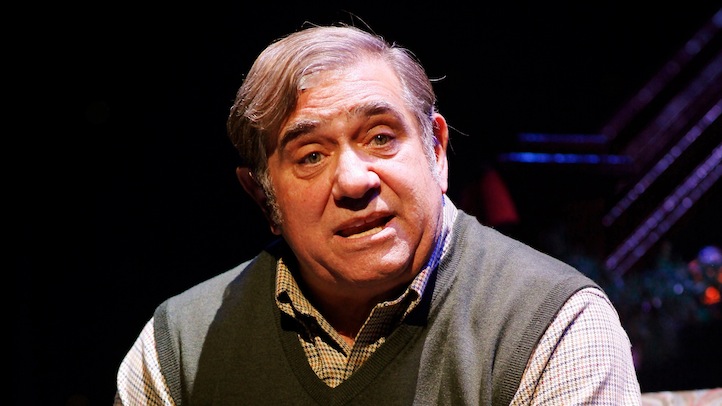 Dan Lauria has played hundreds of characters on film, television and stage over the course of his 40-plus-year career. But for many of us out there, he'll always be Jack Arnold, the gruff, no-nonsense dad from "The Wonder Years."
While Lauria's proud to be associated with the beloved series and character, he's always grateful for the opportunities he's received from working in live theater. "I can't control what the medium says I am," he explains. "If I'm the dad on 'The Wonder Years,' that's fine. But I've never gone a year without doing at least one play. There's no bigger effort when you step on a stage on Broadway than when you step on the stage of a 90-seat theater in Trenton. So as long as I'm on stage, I can try new things."
Lauria returns to the New York stage for his 59th play this week in "A Christmas Story, The Musical." He appears as Jean Shepherd, the narrator of the classic cult Christmas tale, which began as Shepherd's book "In God We Trust, All Others Pay Cash" before evolving later into a radio play and 1983's hit film. It's a role Lauria's familiar with: he played the part during the limited Broadway engagement of "A Christmas Story, The Musical" last winter.
Here, the actor chats with us about revisiting this material, his Christmas traditions and whether or not we'll ever get a "Wonder Years" reunion.
NBC4NY: Has it been fun to revisit "A Christmas Story" again?
Lauria: The show is great. We were all shocked by the Tony nominations last year. It was the first time a limited run holiday show was nominated for a Tony for Best Musical! So it's good to be back. The downside is we lost some of the kids from last year. They had it in their contract they weren't supposed to grow, but they did. I guess we'll have to bring them up on union charges.
NBC4NY: And despite a long history of doing theater, the show still marks your first musical, right?
Lauria: Yes, though I'm still the only one who can't sing or dance. Little Luke Spring, the dancer who steals the show, was the only kid who couldn't sing. So I tell Luke, "Okay, you have to stay with me. We got to stick together." But this year he started singing. So I said, "Luke, you're singing?" And he said, "Dan. I took lessons. I'm sorry. You're all alone now."
NBC4NY: I imagine a lot of the audience comes in worried you're about to mess up their favorite film.
Lauria: Well I was worried about that at first, too. But we're so loyal to the narrative of the movie. And our musical numbers are all born out of the moments in the movie where the kids fantasized. So in some ways, it works even better. The mother's role is a little stronger than it is in the movie, and I think the ending is a little stronger. But I like the idea that most of the adults got a little chip on their shoulder, like, "What'd you do to my favorite movie?" Because they all walk out pleased.
NBC4NY: How many leg lamps have you gotten since starting the show?
Lauria: Oh boy, I think they sell more leg lamps than they do tickets. People come to the show and they walk out with two or three leg lamps! They must be all Christmas presents because they can't be all using them for themselves.
NBC4NY: Were you a fan of the original movie?
Lauria: When I was younger, I loved Jean Shepherd. My father loved him too. I remember one Sunday night, my father said, "Let's go for a ride," and I knew it was just to turn on Jean Shepherd and listen to him together. It's an art that's kind of disappearing. You don't see too many storytellers like that anymore.
NBC4NY: Did you grow up seeing holiday shows each year?
Lauria: Well I was born in Brooklyn and grew up on Long Island. And we didn't see a lot of theater when I was a kid. Our parents were very modest, blue-collar people. The sweetest people in the world. Around Thanksgiving, my father would ask "What do you want for Christmas this year?" And I'd say one thing, like Ralphie does with his Red Ryder gun in the show. And Christmas, it was there. Of course, you get your underwear and your socks every year. But you got that one gift you asked for. And you never asked for the moon.
NBC4NY: Very different than it is today, huh?
Lauria: I used to remember the dinners more. On Christmas day we'd go to my aunts. That was the one night of year we could see everyone from my mom's side of the family all in one place. She's still alive, you know? At 103! She's got 29 great-grandchildren. And she's all there. She's terrific. She still gets around! I'm looking forward to going there this Christmas, even though my parents are gone.
NBC4NY: There's been a big resurgence of love for "The Wonder Years" since it hit Netflix a few years ago.
Lauria: That happened right around the time we started "A Christmas Story." So the kids who come to the show have started watching "The Wonder Years." But they're all scared of me now! "You're mean," they tell me. "No, I'm not mean -- I'm just being a good father," I say. I was the dad nobody wanted but everybody had.
NBC4NY: Was there ever talk of doing a reunion?
Lauria: There were talks about making a show around Fred Savage's character Kevin, as a dad now with a couple of kids. And writer Bob Brush had the idea that I would be a ghost who pops up now and then to say, "See, you used to think I was mean and now you're doing the same thing with your kids!" It was a good idea. But (original "Wonder Years" creator) Neil Marlens just felt like it was a special show and we should leave it as is.
A Christmas Story, The Musical, plays a limited engagement at The Theater at Madison Square Garden Dec. 11-29. Tickets: $40-$165. Visit www.AChristmasStoryTheMusical.com or call 866-858-0008.