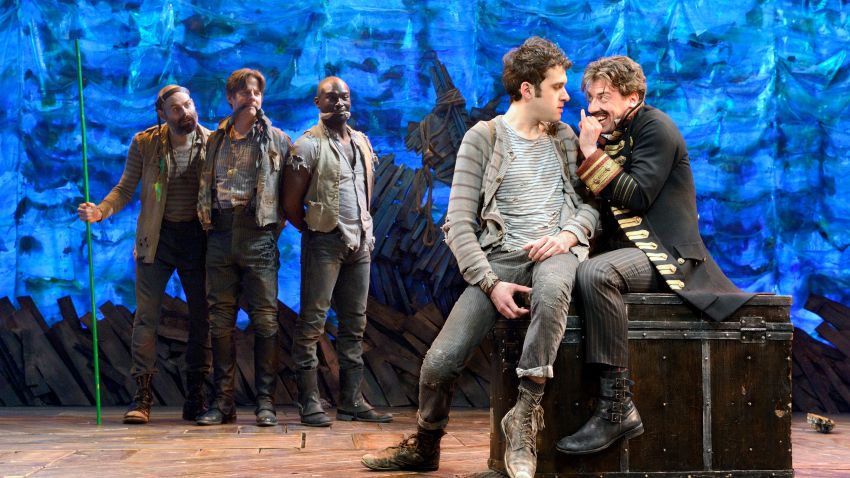 In the prologue to Broadway's "Peter and the Starcatcher," a lanky man-child speaks on a darkened stage: "When I was a boy, I wished I could fly," he says.

Then, an adult takes over the dialogue: "Eventually, of course, we dream other dreams," the man says, all matter-of-fact. "It always happens. Nothing is forever."
We, of course, know better. Peter Pan will fly and stay young forever. But how did that come to pass?

"Peter and the Starcatcher," a new play at the Brooks Atkinson Theatre, is the prequel to J.M. Barrie's "Peter Pan." Just as "Wicked" explained the backstory to "The Wonderful Wizard of Oz," "Starcatcher" answers pressing questions about the boy who wouldn't grow up ... back when he still supposed he would.
Based on a 2004 novel by humorist Dave Barry and suspense scribe Ridley Pearson,
"Starcatcher's" first act takes place at sea, as Peter, his orphan pals and the independent Molly, an "apprentice" Starcatcher, battle a band of pirates. On board their ship, the Never Land, is a trunk. The pirates think it holds treasure. In fact, it holds "starstuff," a magical dust that makes you become whatever you dream of becoming.
From the outset, we're instructed from the stage to "suppose" that all the planks and ropes on set "are now the British Empire." Nary on Broadway have a few pieces of rope done such yeoman's work: a singular strand held by two actors becomes a rolling wave or the borders of a ship's constricted cabin.
"Starcatcher" is a loopy, satisfying romp in which the audience, too, does light lifting. No crashing chandeliers or electric Biblical ticker-tapes here: The set "decoration" is enhanced by what our imagination conjures. The ship's cat is a carnival-reject stuffed animal, but you'd swear it flies when provoked. A yellow Rubbermaid dish glove becomes a playful bird, and you'll believe it flies, too.
The cast of last year's New York Theatre Workshop production are reunited, including Christian Borle (NBC's "Smash"); Adam Chanler-Berat ("Next to Normal"); and Celia Keenan Bolger ("... Spelling Bee"). The script is by Rick Elice ("Jersey Boys"). Roger Rees, who played the British industrialist Robin Colcord on "Cheers," is co-director, with Alex Timbers ("Bloody Bloody Andrew Jackson").
Chanler-Berat is all lanky-goofiness as the boy who would be Peter, and it's in his "Sorry" manifesto that the story's most eloquent moment casts its pall. Molly has suggested a "bedtime story" for Peter and the orphans. The boys don't know what that is: "Hard to have a bedtime when you don't have a bed," they explain. Molly apologizes with sincerity, as Peter goes on to describe a "mass of darkness in the world": "If you get trapped in that cave like us, it beats you down," he tells her. "'Sorry' can't fix it."
The "Starcatcher" cast is little known outside Broadway circles, save for Borle. Oh, what fun the stage vet is having as the fey, vamping villain Black Stache. Faced with a threat from Mr. Grin, the crocodile, Stache's sidekick warns the dyspeptic, dyslexic pirate: "He's chewing all the scenery, sir!" Replies Stache: "Not in my scene, he ain't!"
Keenan-Bolger is the ultimate teen girl's role model as Molly, an athletic, smart and sensitive leader who shows the boys a thing or two about bravery. Molly, it's not spoiling anything to reveal, will grow up to have kids of her own in London, including a daughter, Wendy.
"Starcatcher" has broad appeal, though not necessarily for children. Molly and her father, Lord Aster, each on board different ships, communicate via the "Starcatcher amulets" they wear on their necks. At sea, "cell" connections aren't so good, begetting a tired Verizon joke. A missing trunk is as elusive, to Stache, "as a Philip Glass opera." Ayn Rand and the Cadillac Escalade make anachronistic appearances in the script.
Ultimately, the primary delight of "Starcatcher" is the cumulative adding-up of facts toward a finale that is, in effect, the beginning of Barrie's "Peter Pan." Sometimes, the revelations are gut-busting, as with the 45 full seconds Borle takes to emote the aftereffects of a trunk's closure on his arm. Indeed, it's being called "the best amputation scene since 'The Empire Strikes Back.'"
At "Starcatcher's" climax, Peter and Stache are battling it out on the island, debating who was responsible for Stache's stumpy predicament. "This is all your doing," snarls the addled pirate. "You single-handedly rendered me single-handed!" Asserts Peter: "You cut your hand off, not me!"
"O, Pity the child who lives in a fact-based world!" comes Stache's retort.

Yup. And be happy for the adult who can escape that world with such whimsy as this.