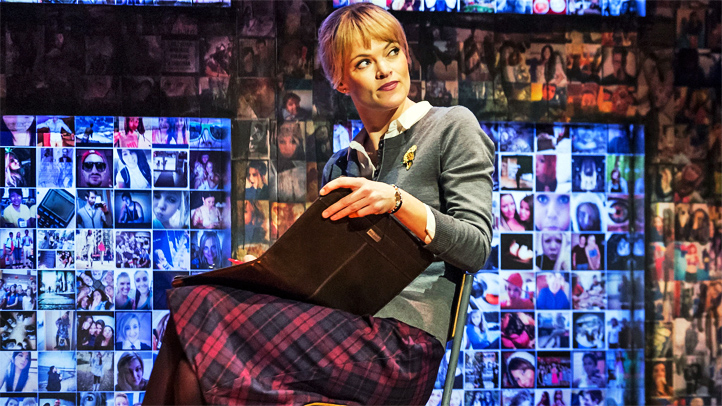 Missi Pyle, whose film credits include "Charlie and the Chocolate Factory," "The Artist" and "Big Fish," is following up her Broadway debut in 2008's "Boeing-Boeing" with a well-regarded turn as a progressive nun in the coming-of-age musical "Bare," now Off-Broadway at New World Stages.
First produced in Los Angeles more than a decade ago, "Bare" is set among the teens of a co-ed Catholic boarding school, and centers on Peter and Jason, who find love in each other's companionship. When their first kiss is witnessed by a classmate, their affair becomes public and their lives increasingly tumultuous. Pyle plays a forward-thinking nun and teacher at the school, and also brings down the house in an out-of-character stint as a Virgin Mary with a glittery nightclub act.
Pyle, who was raised a Southern Baptist in Texas and Tennessee, sat down at the theater to talk with NBC4NY about her young cast-mates, playing a nun whose teachings don't align with church doctrine, and her pop culture-filled past, which -- aside from roles in dozens of familiar TV shows and movies -- also includes a stint as a black widow at the New York theme restaurant Jekyll & Hyde.
NBC4NY: Sister Joan is an edgy nun willing to discuss hot-button topics with her students. And then there's this breakaway scene as the Virgin Mary. You're risking a lightning strike, either way.
PYLE: Yes! Sister Joan has got one foot on a banana peel. She's going to be fired. There's a line when Father Mike says: "I'm not so sure anyone else would take you at this point," and I think there might be some truth to that. I think she might have to consider whether she can teach in a Catholic school after this.
NBC4NY: Why were you drawn to Sister Joan?
PYLE: Jon Hartmere (who wrote the book and lyrics for "Bare") is a wonderful writer, and the idea of this journey these kids are taking ... I just thought this nun was such a beautiful character. I normally play over-the-top characters -- and I get to have that with the Mary lounge act, which is five minutes of so much fun -- but then I get to be this grounded person who is, again, just getting herself in trouble. She's just guiding these kids and following her heart, and what she believes God would want.
NBC4NY: I'm guessing you're Catholic?
PYLE: I was raised Southern Baptist. There are similar issues there, though. A lot of the doctrine is the same, it's just a little bit more strict. I will say we were very religious growing up. We went to church three times a week. My father was the minister of music. Nobody drank. Nobody danced. We weren't allowed to listen to rock music. And I've been rebelling since the moment I left.
NBC4NY: OK, so this show is one giant catharsis for you.
PYLE: I think to be able to stand there and be representative of a faith and to be able to say: "Not everyone feels this way" is a privilege. This particular woman is saying: "Let's examine things a little more thoroughly. Some of these rules may need to be looked at differently and, potentially, broken." I was also floored by the idea of someone who marries God, who doesn't wish to have a carnal life. I'm really fascinated by that, that these people give up that animal aspect of who they are. And I wanted to see how I could bring the truth of that to this character.
NBC4NY: People say this all the time to actresses, but you've really managed to land in an enormous number of successful projects during the last 20 years, from "The Artist" to "Dodgeball" and "Charlie and the Chocolate Factory," where you played Violet Beauregarde's mother. What roles do people most associate you with?
PYLE: It's a three-way tie, between "Soul Plane," "Two and a Half Men," "Galaxy Quest" and "Charlie ..." OK, that was a four-way tie.
NBC4NY: You've also got a prize-winner of a Trivia page over on IMDB: you were supposed to ring the closing bell at the stock market on Sept. 29, 2008, a day the market lost 778 points (she demurred) ... Maxim voted you among its "100 Sexiest Women" in 2004 ... you had a grizzly bear at your wedding ... and you began your career in New York, working at a now-shuttered Jekyll & Hyde.
PYLE: Jekyll & Hyde. I went in thinking I was going for a waitress, and then they hired me as this character who was a black widow, so I'd wear this spider on my head. She had a faulty British accent. So for $8 an hour, I'd play these characters and get hoarse, but I had this great freedom to go up to people's tables and start eating off their plates. This was when I was, like, 21. Then I got offered a job at Steppenwolf to do a play with John Malkovich and I was like: "See ya!"
NBC4NY: Can we talk about "The Dog Whisperer"? You appeared on an episode with your dogs J.J. and Ellie, and your then-husband, Casey.
PYLE: J.J. was a dalmatian, and Ellie's a rottweiler mix. This was maybe three years ago. Casey (a grizzly bear specialist for National Geographic) was on the same network as Cesar Millan, and I was having some trouble -- with Casey -- because I couldn't get him to walk my dogs. They were so bad. And I was like: "You're gonna marry me, but you won't walk my dogs?" So Cesar came over to the house, walked in the door and he literally never broke eye contact with me. He never checked his phone, nothing. Finally, I said: "You have not stopped looking at me," and Cesar said: "I'm trying to get you to calm down. Your energy is so chaotic. And the dogs are sensing that."
NBC4NY: Let's go back to "Bare." It occurs to me that during your last stint on Broadway, in "Boeing-Boeing," you were working with peers, age-wise. Here, you've got a really young cast.
PYLE. Tell me about it. The first week they were really funny, because it was like "I was from Hollywood." It was all: "Tell me what it's like to work with Johnny Depp," and things like that. This one girl, Barrett, who plays Nadia, was like: "I've seen 'Josie and the Pussycats' 25 times and I know every single facial expression you've ever made, and I know every line." Being quoted to yourself is kind of funny. ... What I've loved about it, especially with Taylor (Trensch), who plays Peter, is they're just so raw. They're raw and excited, and it reminds you what the theater is about. They don't know yet the crushing disappointments that will come along, and when something does happen, you keep reminding them there will always be more opportunities. There are definitely times I feel like I'm the mother hen. But I definitely miss ... adult companionship.
NBC4NY: You must socialize with them a lot.
PYLE: There's this little bar called Reunion that in the beginning we would go to, and it's that funny thing of me being the older one -- and the nun -- and then having one of the kids go: "Let's do shots!" ... And there was a Halloween party. I got to the apartment, and I was like: "Oh, this is a 22-year-old's apartment." The chips on the table. The big 2-liter bottles of soda, like you do when you're 22. It's been really fun to be with them and to watch them experience and navigate the show, and to be able to be there if they're sad about something. One of the girls turned 21 and I turned 40 on the same day, so we had a party, and I'm literally looking at the clock and wondering: "Is my face going to fall down?" We have these ideas about age, and what we should or shouldn't do, and really, you're the only person whose perception matters.
NBC4NY: If you could tell your 21-year-old self anything, what would it be?
PYLE: That 40 is hot. That you're still gonna be hot. ... Well, I don't mean it like that. It's more like: "You'll feel exactly the same way you always have, but you'll have had a lot more experiences. And more debt."
"Bare," at New World Stages, 340 W. 50th St., for an open-ended run. Tickets: $89.75-$126.50, via Telecharge.com or call 212-239-6200.