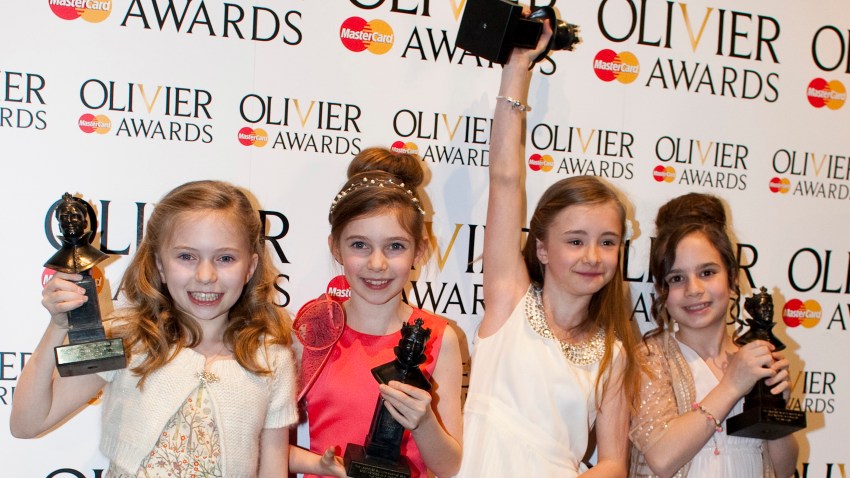 Producers of "Matilda," the musical based on the popular children's story by Roald Dahl, will hold an open casting call for the title role on Sept. 30 in New York.
"Matilda: The Musical" is billed as "the story of an extraordinary little girl who decides that despite a bad beginning filled with rotten parents, a terrifying school and a vicious head mistress, her story is going to be an astonishing one."
It's slated to begin previews on March 4 at Broadway's Shubert Theatre, ahead of an April 11 opening.
Several actresses will alternate in the leading role at various performances, in a strategy akin to one employed by producers of "Billy Elliot." Four young performers shared a 2012 Olivier Award for their work in the much-lauded West End production of "Matilda."
As The New York Times noted this week, the arrival of "Matilda," along with "Annie" (with previews starting Oct. 3) and "Rodgers and Hammerstein's Cinderella" (beginning Jan. 21), means the new season boasts "three coming Broadway musicals about plucky girls persevering against cruel adults and grim circumstances."
For the New York call, producers are seeking girls, age 8 to 10, who are 4-feet, 4-inches or under. According to producers, Matilda "should look like the run of the litter. However, she is extremely bright, fearless and focused, and able to speak assertively."
From a practical standpoint, the actress "should be a strong singer and confident speaker, with a good understanding of text and intelligent approach to acting." "Matilda is a fiercely clever child; living in an abusive household, she escapes into books and her imagination," they note.
No prior experience is necessary, and only the title role will be cast during this audition process. Hopefuls should bring sheet music for a short song; there will be a piano accompanist in the room. Actresses also are asked to "prepare a short story or poem in the style of Roald Dahl," committed to memory.
The casting call is at Pearl Studios, 519 Eighth Ave., between 35th and 36th streets. Check-in begins at 10 a.m. Interested parties can call 212-719-9393, ext. 360 for more information.
Dahl is the author of a slew of children's favorites, including "Charlie and the Chocolate Factory" and "James and the Giant Peach." The musical will be directed by Tony-winner Matthew Warchus ("God of Carnage"). It's produced by the Royal Shakespeare Company and The Dodgers.
Tickets for "Matilda" go on sale to the general public on Oct. 1 at 9 a.m. via Telecharge.com. Both American Express and Google are offering pre-sales, according to Playbill.com.
The official Broadway trailer is below.