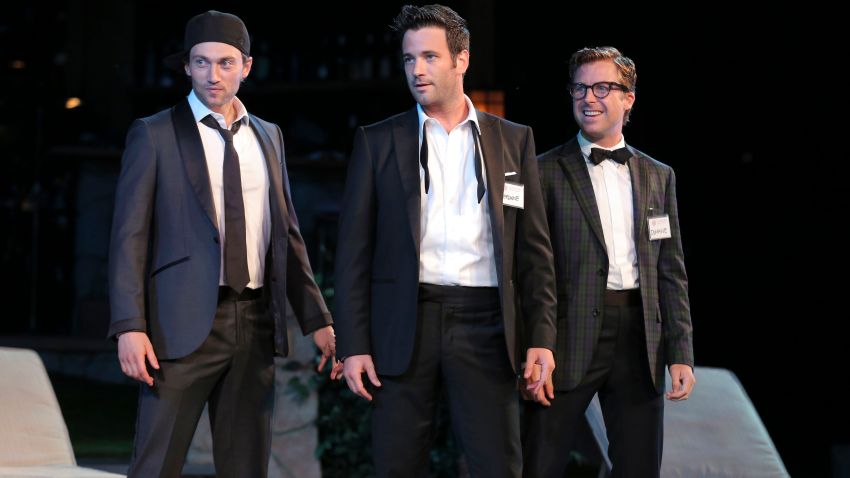 College reunions are fraught enough without the celebrants being reminded of their every youthful dalliance. Pity, then, the quartet of 26-year-old boy-men at the heart of "Love's Labour's Lost," who find themselves in close quarters with ex-lovers in a new musical adaptation of Shakespeare's comedy from the duo behind rock-and-roll stage hit "Bloody Bloody Andrew Jackson."
The second production of the Public Theater's Shakespeare in the Park season opened Monday with a contemporary score by Michael Friedman, and a light-on-the-iambic-pentameter book by in-demand writer-director Alex Timbers. Under Timbers' tutelage here, an ace cast -- including a two-dozen-strong marching band toward night's end -- offers up an unusual hodgepodge of stage musical references and introspective ballads that zip by at the speed of light and demand your rapt attention.
In its original form, "Love's Labour's Lost" is about four young aristocrats of Navarre, who place themselves in forced seclusion to focus on personal betterment without the distraction of the fairer sex. Here, the action has been bumped to 2008, where the King (Daniel Breaker, "Passing Strange") and his buddies from an unnamed New England college have assembled at a Berkshires resort for their fifth reunion.
The top dog and his pals (Colin Donnell, Bryce Pinkham and Lucas Near-Verbrugghe) display their commitment to reform in an opening requiem that has them locking away in a trunk their trinkets of youth: Bud Light, condoms and an X-Box. Yet no sooner have they embarked on their pursuit of masculine purity than those vows are challenged by the arrival of a Princess (Patti Murin, "Lysistrata Jones") and her companions (Maria Thayer, Kimiko Glenn and Audrey Lynn Weston), each of whom has a past connection to the four men ("I had some daddy issues," explains Murin's regretful sovereign).
The romantic heart and soul of this "Lost" is Donnell's confident and committed Berowne, the on-the-cusp-of-manhood post-grad who flirts with Thayer's fiery Rosaline. He sets the tone for "Lost" in the opening song "Young Men": "I don't wanna be the one who wastes precious time/The one who has no fun while I'm in my prime." Well hey, Berowne, we don't wanna stand in your way. But what about that vow?
Friedman and Timbers have squeezed 21 songs into the intermission-less 100-minute musical, which at times references "A Chorus Line," "The Drowsy Chaperone," "La Cage...," "How to Succeed ...," and, for good measure, "Cats." While tending to our theatrical whiplash, we're pretty sure we caught a nod to "Romeo & Juliet" in there, as well.
Pop culture gags, in Seth MacFarlane fashion, give props to North Face bags, Papa John's pizza and the movie "Top Gun."
Rebecca Naomi Jones ("American Idiot") as Jaquenetta, a barmaid, delivers what is arguably the musical's most touching song, the thoughtful "Love's a Gun," which issues a warning we all learn right around the time we're the same age as these kids. Other standout numbers include a trio of solo sonnets sung by the King and his friends Dumaine and Longaville that give each character a moment to display their unique personalities ... and one a moment in a sequined vest and short-shorts.
Three subplots involve a half-dozen other characters: courtesans, couriers, professors and the like. Standouts include Caesar Samayoa ("Sister Act") as the Latin lover Armado, who nurses a crush on Jones' barmaid, and Charlie Pollock ("Urinetown"), channeling Matthew McConaughey as Costard, the cantina-owner who shuttles letters between two of the lovers. Pollock's "Rich People," a comic diatribe, was a crowd pleaser at the press performance I saw, especially when he lamented that the upper classes "Pay for better seats at plays that should be free."
Justin Levine ("Bloody, Bloody...") was welcome as Moth, Armado's page, who admits to an unholy affection for a common house pet in the absurd and aptly titled "I Love Cats." (Kudos to my companion, who picked up on Levine's "Alf" T-shirt, recalling that the sitcom alien also had an unfortunate fondness for felines.) "SNL" vet Rachel Dratch has a too-brief deadpan turn as a professor, paired amiably with actor Jeff Hiller.
John Lee Beatty's set, with its lodge, lounge chairs and well-stocked cantina conveys the faux-rustic mountain resort where this post-collegiate gaggle gather to reunite. From a hidden hot tub to roving golf carts and Segways, it revealed itself scene after scene.
"Lost" hews closely to Shakespeare's plot, which turns toward tragedy at the end as -- no, this isn't really a spoiler -- the princess receives word her father has died. Given that fact, and the princesses' need to return home, there's not going to be a happily ever after for our frolicsome foursome of men.
People more fluent in Shakespeare than I argue this double-edged sword of a story gives "Lost" its oomph: you need the reminder that pain exists in order to fully appreciate the pleasures of being alive. That sentiment comes across crystal clear in Timbers' surprising and quick-witted new musical, which packs a lot of living into its own brief time in the spotlight.
"Love's Labour's Lost," through Aug. 18 at the Delacorte Theater in Central Park. Tickets are free and are distributed two per day at the theater beginning at 12 p.m. on the day of each performance. See shakespeareinthepark.org for more information.
Follow Robert Kahn on Twitter@RobertKahn