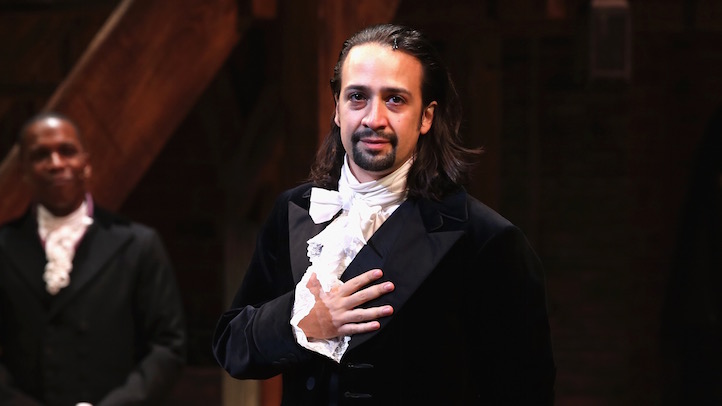 Getting tickets to Lin-Manuel Miranda's critically acclaimed, sold-out show "Hamilton" just got a whole lot harder.
On Tuesday, the Rockefeller Foundation announced it will pledge $1.46 million to pay for 20,000 low-income New York City public school students to see the historical hip-hop musical.
The program will launch April 13, 2016 with students from the Thomas A. Edison Career and Technical Education High School. The exclusive Wednesday matinee performances will continue into the 2016-17 Broadway season.
"Hamilton" will also be integrated into the student's' classroom as well, with curriculum developed by the Gilder Lehrman Institute of American History to help students prepare for and reflect on the show. There will even be an online portal to inspire students to create their own original hip-hop, poetry and monologues.
Students will have a chance to present their original art in the mornings, on the stage of the Richard Rodgers Theatre. A cast Q&A will follow, before each matinee.
Tickets will be sold to the Foundation for roughly half of face value -- $70 each. Students will be charged $10 for each ticket (a "Hamilton" for a Hamilton, if you will), with the Foundation making up the difference.
"Hamilton" producer Jeffrey Seller says he hopes to continue the program both in New York City and on the road once the show begins its national tour.

"It is a dream come true to have a program like this exist in connection to "Hamilton," creator Lin-Manuel Miranda, said in a statement. "I can't wait to perform for a theater full of students who are learning about our Founding Fathers in class and seeing how it still relates to their own lives on stage."

"This will be a game changer for my students and will undoubtedly provide excitement and joy around American History," remarked Principal Moses Ojeda, of Thomas A. Edison Career and Technical Education High School. "New York City is so rich in culture, and my students will now be exposed to a phenomenal production they can relate to."

For more information, visit www.hamiltonbroadway.com.