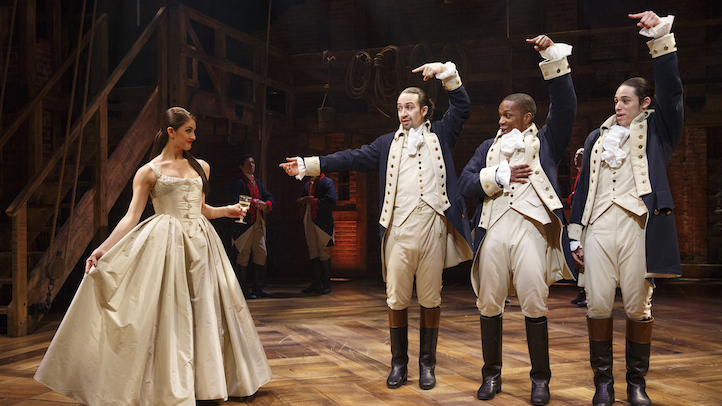 For those who haven't yet had a chance to see Lin-Manuel Miranda's sold-out musical "Hamilton," you'll finally get a glimpse when the cast of the hip-hip historical performs at the Grammy Awards.
The "Hamilton" performance will be streamed live into the ceremony from its home at the Richard Rodgers Theatre on Broadway.
"We're going to do the opening number, scream with joy, and then celebrate the fact that we were just on the Grammys," Manuel told USA Today. "Best night ever."
To clarify -- that opening number will be the musical's opening number, "Alexander Hamilton," not the Grammy telecast's opening number.
This will be the first performance from the hit musical ever to be seen on television.
The cast of "Hamilton" will join previously announced performers including Adele, Kendrick Lamar, The Weeknd and Lady Gaga.
Musical theater productions have been featured on the Grammy before — eight times, in fact. The last came from the cast of 2010's "American Idiot," who sang "21 Guns" alongside Green Day.
"Hamilton" is nominated for a Grammy this year, for best musical theater album alongside the original cast recordings for "An American in Paris," "Fun Home," Something Rotten" and "The King and I."
The Grammys will air on CBS on Feb. 15.