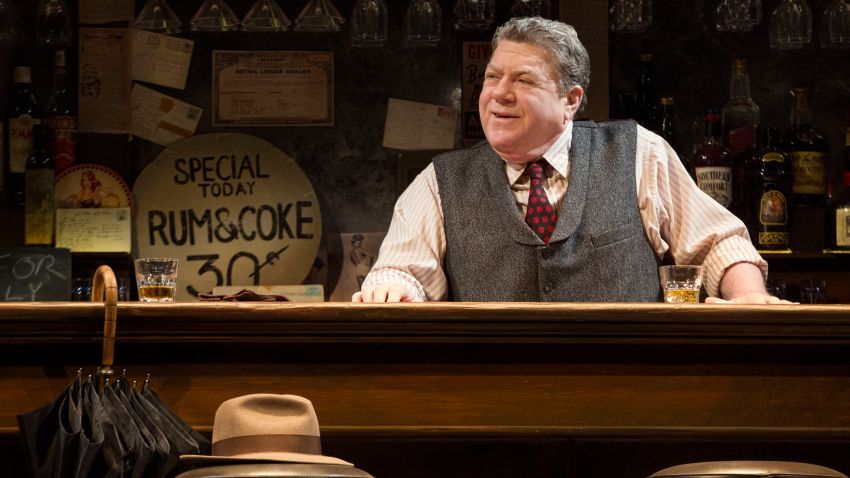 A guy walks into a bar ... heard this one before? You can bet George Wendt has, too, after, 11 seasons on "Cheers" as Norm Peterson, the fella with the largest bar tab in Boston. Wendt is back at a bar in this season's "Breakfast at Tiffany's" on Broadway, only this time he owns the joint.
In "Breakfast at Tiffany's," which opened this week, Wendt plays bar owner Joe Bell, a pivotal character in the relationship between elusive Holly Golightly ("Game of Thrones" star Emiliar Clarke) and Fred, a poor young writer from Louisiana (Cory Michael Smith, of "The Cockfight Play"). Says Wendt: "It's good to be on the other side of the bar, for a change."
Everyone falls in love with Holly, and Fred and Joe are no exception in Richard Greenberg's stage adaptation of Truman Capote's 1958 novella. Wendt chatted with NBC 4 New York backstage at the Cort Theatre, where his dressing room is across the hall from the handful of cats (one star, and a clowder of understudies) who appear onstage alongside Wendt and "Breakfast" leads Clarke and Smith.

The show's preview video follows the Q&A.
NBC 4 New York: More people are familiar with "Breakfast at Tiffany's" because of the 1961 Audrey Hepburn movie than Truman Capote's novella, would you agree?

George Wendt: That's right. This is boy meets girl, boy gets girl, boy loses girl. Period. The end. ... Most people are really moved by it. We're at least as funny as the movie, but we just don't have a happy romantic comedy ending.
NBC4NY: Tell us about Joe Bell.

GW: Joe owns the bar, and he's been there a couple of decades. It's around the corner from where the kids live, around 73rd and Lex. It's World War II, and 1943, and Joe is sort of a father figure and confidante for both Holly and Fred. Like most men who cross her path, I've got a bit of a crush on Holly, and that ends badly, as all of her relationships with men do. ... Another key thing is, at least according to the novel, in 1943 there weren't a lot of private telephones -- that wasn't standard issue in young, transient people's flats in Manhattan -- so they come to use the phone and I also take messages for Holly and Fred. I'm kind of the "Command and Control."
NBC4NY: Had you read the novella?

GW: I'd only seen the movie, and when the script came my way I was floored by how gorgeous the piece was, the adaptation, so I immediately picked up the novella. I'd never read Capote -- I'd only seen "In Cold Blood" and "Breakfast at Tiffany's" in movie form. But now I realize what all the fuss was about, and I can't wait to go back and read "In Cold Blood."
NBC4NY: I can see working with a dog on stage, but cats ... they have minds of their own. And your dressing rooms are so close. Vito's the lead now?

GW: Yeah, yeah, he likes it here. He always pops in to say hello. Vito, that is, the star. You know, the understudy cats seem to have taken over the dressing room, and Vito seems to have migrated to Cory's dressing room. I dunno ... I think it's "All About Eve" in that understudy cat dressing room. The claws are out.
NBC4NY: Not to belabor this, but Vito is surprisingly well-behaved on stage.

GW: He is. There were moments in previews where he would disappear, and I'm saying: "Could somebody go down to Fulton Market and just get a fresh mackerel, and put it where he's supposed to be?" But he's been nailing it, lately.
NBC4NY: You've worked on Broadway and in the West End, doing "Hairspray," "Art" and "Elf." What would you like to tackle next?

GW: I never used to think in terms of that, because I didn't come up in a classic theater background. I came up through improv and Second City in Chicago, the first six years of my career. You never really leave Second City. It's like the Marines. They're always calling up for the odd gig, theatrical, or corporate, or charity. Second City is still a big part of my life. .... But I didn't have all these classics to pull on, so I'm woefully ignorant. I suppose there's a massive challenge in something like Falstaff, and I've never done Shakespeare, so I'd need a lot of help.
NBC4NY: How are you spending time away from the theater?

GW: We're in a cycle of rehearsals and performances, so all I do is go home, pop a beer and watch sports. Order a pizza. But I did go see the Allman Brothers on Sunday night at the Beacon, and that was cool. Once the show is up and running, I'll be more of a bon vivant ... a boulevardiere.