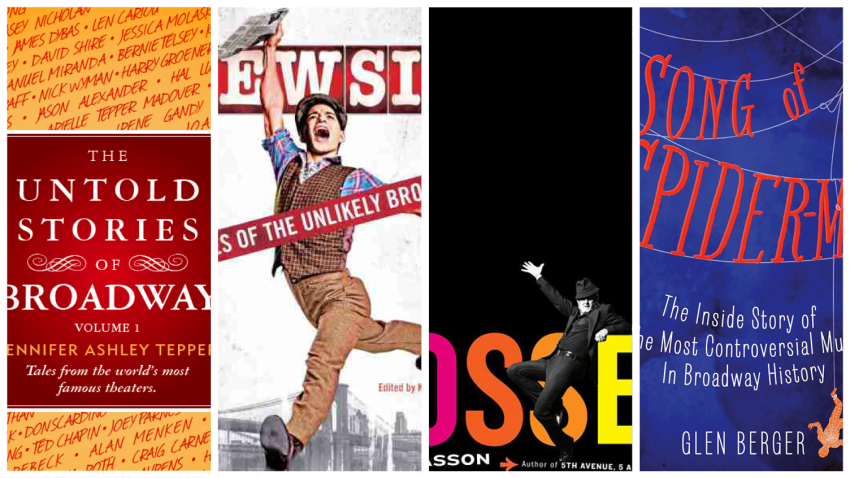 You've bought them show tickets before. And a framed poster of their favorite musical. You've picked up every movie musical currently out on DVD. Heck, you even got them that binder they wanted to keep their Playbills organized. So what else can you get for those Broadway fans on your holiday shopping list?
Luckily, there are four new theater-centric books out right now that are sure to whet any theater fan's appetite. Here's our rundown:
"Fosse"
By Sam Wasson
Eamon Dolan Books, $32.00
Bob Fosse may be known to most for his innovative choreography in works like "Damn Yankees," "The Pajama Game," "Cabaret," "Pippin" and "Chicago." But it's the stories behind those moves that you'll find truly captivating. Wasson's masterful biography, "Fosse," paints the portrait of a man driven by perfection, insecurity, depression and unstable appetites. It's a complicated, humanizing portrait of the legendary director-choreographer rich with torrid tales and told through the eyes of so many of the personal relationships that defined his work. Plus, who doesn't love some good Liza Minnelli gossip?
"Newsies: Stories of the Unlikely Broadway Hit"
By Ken Cerniglia
Disney Editions, $25.00
When the film "Newsies" opened to a disappointing box office in the spring of 1992, no one saw a best-selling Broadway hit in its future. But two decades later, that's what happened. And now Cerniglia takes us inside the journey, from the real story of the 1899 newsboy strike to the making of the film through the stage development and onto the musical's first anniversary on Broadway. Along the way, Cerniglia splices in more than 100 first-person accounts of the "Newsies" world, including commentary from the film's director Kenny Ortega, composer Alan Menken, book writer Harvey Fierstein and the show-stars Jeremy Jordan and Andrew Keenan-Bolger. There are even fan photos throughout, which make sense considering the cult fandom behind the film contributed greatly to show's success. The only downside to Cerniglia's book? It's only available at Broadway's Nederlander Theatre until it hits bookstores on Feb. 4.
"Song of Spider-Man: The Inside Story of the Most Controversial Musical in Broadway History"
By Glen Berger
Simon & Schuster, $25.00
Broadway's "Spider-Man: Turn Off the Dark" made headlines for its ballooning budgets, backstage feuds and numerous cast injuries. In "Song of Spider-Man," playwright Berger tells his first-hand account of the show's journey from paper to stage, outlining how the "circus-rock-and-roll-drama" turned out to be such a theatrical nightmare. And while there's plenty of good gossip to be had, don't come looking for the blame game or any character assassinations here. Berger isn't out for blood, and his honest, sympathetic view of the complex personalities and relationships at hand (Julie Taymor, Bono, The Edge, etc.) give more insight into the creative process behind a Broadway musical than we got in two seasons of "Smash."
"The Untold Stories of Broadway, Volume 1"
By Jennifer Ashley Tepper
Dress Circle Publishing, $19.99
Broadway historian and producer Tepper tells the story of eight historic Broadway houses -- the Winter Garden, the Richard Rodgers and six others you've probably passed by every time you've been to Times Square -- all told through personal accounts of more than 200 actors, composers, writers, producers, stage hands, house managers, press agents, designers and more who filled them night after night. The book is filled with juicy anecdotes and inspiring tales. And though each interview presents a different perspective on the experience over 65 years of theatrical past, one common thread unites every story: an undying love for the theater. The first volume of a mutli-part book series, "The Untold Stories of Broadway, Volume 1" leaves you wanting more.