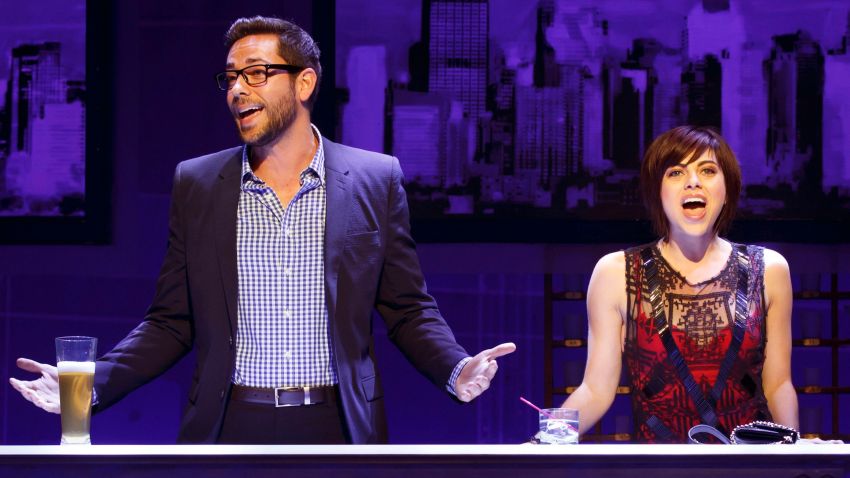 An admission: I had low expectations for "First Date," the earnest new musical comedy that opened Thursday at the Longacre Theatre. Watching the subjects on a blind date play "Jewish geography" and hearing them whine about finding "the one" sounded like something I've experienced vicariously, or done myself, one too many times.
Kudos, then, to Zachary Levi, of NBC's "Chuck," and Krysta Rodriguez, a second-season regular on "Smash," for elevating to a higher plane a boy-meets-girl story you, too, have heard before. The two are remarkably comfortable in their characters' skins, and as physical comedians, both are just good fun to watch.
"First Date" has Levi's buttoned-up single guy Aaron arriving early at an industrial-like Manhattan restaurant and ordering a glass of courage from the overly intrusive waiter (Blake Hammond, with a double-chin and an ingrained compulsion to give Cupid the occasional nudge). Aaron's there to meet Casey (Rodriguez), a tattooed photographer with a pixie haircut who seems his polar opposite.
First impressions are tough to change, and neither Aaron nor Casey are particularly taken with one another. He likes salads. She prefers red meat. Should they, you know, just call the whole thing off?
Complicating matters are the voices in their heads, and that's the gimmick in "First Date": those voices are acted out by a quintet of supporting players, each tackling multiple stock roles. There's Aaron's devilish best friend, Casey's "perfect" and settled-down sister, and so on.
Austin Winsberg's slapstick book makes hash of every dating cliche we've heard: Casey has always preferred bad boys ("You have no idea how much I miss the smell of cigarettes and apathy," she proclaims to two of her exes, in a fantasy sequence). There's been some pre-date Googling, another surefire landmine. Aaron, the nice Jewish boy, has a mild cardiac event when Casey reveals she's not a member of "the tribe," a revelation that spurs an intervention from the spirit of Aaron's grandmother (Sara Chase, evoking a younger Fruma Sarah from "Fiddler"). A plot twist later on, intended to humanize Aaron, feels more than a little abrupt.
The breezy if plain score is by young composers Alan Zachary and Michael Weiner, who've written for Disney. It includes some worthy confections, particularly "The One" and "First Impressions," early in the proceedings. Director Bill Berry (Seattle's 5th Avenue Theatre, which co-produced the musical there last year) prudently limits matters to a single 90-minute act, mostly dedicated to the getting-to-know-you dance, which continues to suggest this date isn't going to be a love connection.
Levi, making his Broadway debut, may be best known for his five-year stint on NBC's cult spy series, but he also sang the Oscar-nominated duet "I See the Light" with Mandy Moore, from Disney's "Tangled." He's got pipes, and "First Date" is a nice vehicle for the lanky actor, who mugs his way through a handshake-turned-awkward-fistbump, and other well-done comedic moments.
Rodriguez is compelling and believable as the wounded, sometimes claw-bearing serial dater who hasn't quite given up on love.
The supporting ensemble includes the endearing Kristoffer Cusick (a one-time Fiyero in "Wicked") as Casey's "BFF" Reggie, a screeching gay caricature lined up to make the "bailout call" if Casey needs it, and Bryce Ryness (Broadway's "Hair" revival) as Gabe, Aaron's oldest pal, dating coach and worst influence. Chase also plays Casey's perfect sister (have you noticed they're always from Westport?) and Kate Loprest ("Hairspray") is Allison, the heartless ex-fiancee Aaron's still mooning over.
David Gallo's stage and media designs capture that anonymous Chelsea or Upper West Side restaurant vibe, with its dim lighting and too-cool-for-school features.
"First Date" doesn't boast the most memorable score or original story, but you'll still walk out feeling as if you've gotten lucky. That's thanks to the charismatic stars, who display a comfort and ease with their fictional counterparts that you usually only see in couples married 20 years.
"First Date," at the Longacre Theatre, 220 W. 48th St., for an open-ended run. Tickets: $35-$137, via Telecharge (212-239-6200), or the box office.
Follow Robert Kahn on Twitter@RobertKahn