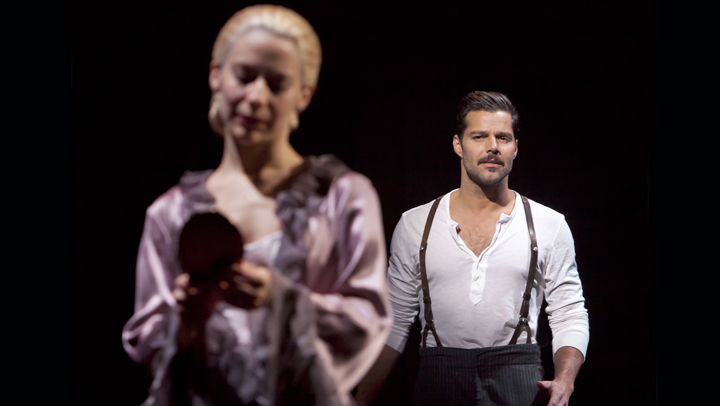 You know "Don't Cry for Me Argentina," but have you heard it lately?

The defiant ballad from the musical "Evita" is such a part of our pop culture lives that admirers can recall each cadence of past recordings by Elaine Page and Patti LuPone (the original West End and Broadway stars), or Madonna (who nabbed a Golden Globe for the 1996 film).

So, there was an unexpected and exhilarating comfort to discover new joys in the decades-old touchstone, a high-point in the re-conceived "Evita" that tangoes its way to the Marquis Theatre this month, with Elena Roger in the title role.

Roger, the first Argentine to play "Evita" on Broadway, offers a more deeply accented Evita than Americans have known, a quality that demands us to pay more attention as the former first lady claws her way to power.

Roger, who first played Evita in London's West End in 2006, shares billing with megastar singer Ricky Martin and stage veteran Michael Cerveris in what is, some 30 years later, the first Broadway revival of the musical by Andrew Lloyd Webber and Tim Rice.

"Evita" is based on the life of Maria Eva Duarte de Peron, second wife of Argentine president Juan Peron (Cerveris) and, more to the point, the first female political celebrity of the modern era. "Evita," as the one-time radio actress became known, could see the prospect of eternal-adulation from her house, and her complicated motives left an unresolved legacy in Argentine politics.

The revival is an expedited affair that follows Evita's early life, rise to power, her charity work and death from cancer, at 33, in 1952. Put your mourner's clothes away: In a brisk 2 hours and 15 minutes, including intermission, we have little time to shed tears for anyone.

Thanks for that are due largely to Roger's co-stars. As an everyman Che, Eva's sharpest critic, Martin, 40, exudes charisma and commands every scene he's in -- and, no fools these producers, he's in most. As originally played by Mandy Patinkin in 1979, Che was a revolutionary, like his namesake, Che Guevara. But here, Martin is Che the one-man Greek chorus.

Martin, who debuted on Broadway with "Les Miserables" in 1996, ushers along the proceedings with authority, climbing stage equipment to peer out at the vast seascape of faces at the Marquis. Long a tabloid fixture -- his coming out in a recent biography was international news -- Martin's presence feels appropriately sublimated in this production, yet his singing and dancing speak (and shake) volumes.

Choreographer Rob Ashford ("How to Succeed...") has expanded the dancing seen in the original "Evita," at one point having Roger appear in a marvelous Tango "sandwich" between two men. The Roger-Martin pairing explains why one of the running gags in the company is that they are, ahem, "Living 'Evita' loca."

Broadway veteran Michael Cerveris ("Sweeney Todd," "Assassins") brings grace to the role of Juan Peron, allowing audiences to see his union with Eva as more of a love story than merely a complicated chapter in Argentina's political history.

Neil Austin's lighting lends the required regal presence to the Casa Rosada, where Eva Peron memorably addresses the Argentine people.

Rachel Potter, as one of Juan's mistresses, has her moment to shine with "Another Suitcase in Another Hall." Of special note: "You Must Love Me," the Oscar-winning song from Madonna's movie, also added to subsequent stage productions, is included here.