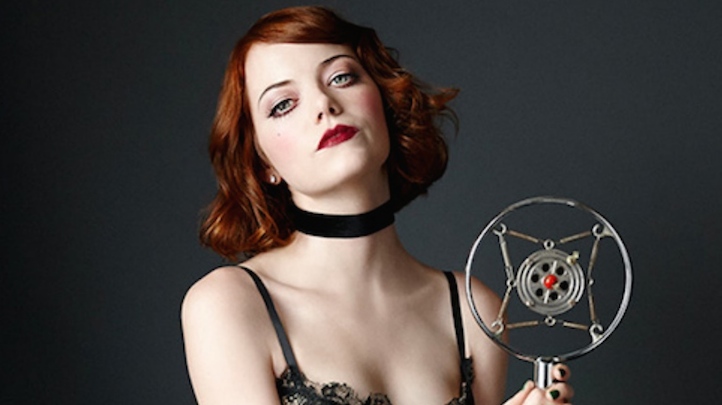 While you explore lower Manhattan's new Fulton Center, here's what everyone's talking about this week In the Wings.
Emma Stone begins her run in "Cabaret" on Nov. 11. The 25-year-old actress makes her Broadway debut, stepping into the shoes of Kit Kat Club singer Sally Bowles. Stone will remain in the role, originated in this revival by Michelle Williams, through Feb. 1, 2015. [More info]
Danny Burstein will lead "Fiddler on the Roof" revival in 2015. The rumors are true! Danny Burstein will play "Tevye" in the 2015 revival of "Fiddler on the Roof." Being the fifth Broadway revival for "Fiddler," it's only fitting that five-time Tony nominee Burstein lead the production, after all. "Fiddler" will begin performances Nov. 17, 2015 in a yet-to-be-named Broadway house. [More info]
"The Heidi Chronicles" revival, starring Elisabeth Moss, sets Broadway dates. The play will begin performances Feb. 23, 2015 at the Music Box Theatre, with an official opening on March 19. Joining Moss in the first ever revival of Wendy Wasserstein's Pulitzer and Tony-winning musical will be "American Pie" star Jason Biggs, as well as Bryce Pinkham ("A Gentleman's Guide to Love and Murder") and Tracee Chimo ("Lips Together, Teeth Apart"). [More Info]
Merritt Weaver joins New York premiere of "The Nether." The play, by Jennifer Haley, is about a young detective investigating a crime within a new online reality. Weaver, who won an Emmy for her role in "Nurse Jackie," will be joined by Peter Friedman and Tony winner Frank Wood in the thriller. "The Nether" will run from Feb. 4, 2015 through March 15 at the MCC Theater's Lucille Lortel Theatre. [More info]
Minnie Driver will be part of NBC's "Peter Pan Live!" The Oscar-nominated actress, who stars on NBC's hit series "About a Boy," will join Allison Williams, Christopher Walken and Kelli O'Hara in the upcoming "Peter Pan Live!" She'll play Adult Wendy, who narrates much of the action throughout the show. [More info]
Broadway performers have been announced for 88th Annual Macy's Thanksgiving Day Parade. Every year, Broadway shows are spotlighted in the early hours of the Macy's Thanksgiving Day Parade. The shows participating this year? "The Last Ship," "On the Town," "Side Show," the forthcoming "Finding Neverland" and the Tony-winning Best Musical "A Gentleman's Guide to Love and Murder." There will also be a special preview of NBC's "Peter Pan Live!" [More info]
Kids can see Broadway shows for free in "Kids Night on Broadway." The annual event, which runs Jan. 9, 2015 through Jan. 15, allows kids, between the ages of 6 to 18, to see participating Broadway shows for free when accompanied by a full-paying adult. Nearly every Broadway show participates, including family-hits like "Aladdin," "Matilda The Musical," "Wicked" and "The Lion King." For the full list of available shows, and tickets information, visit kidsnightonbraodway.com.