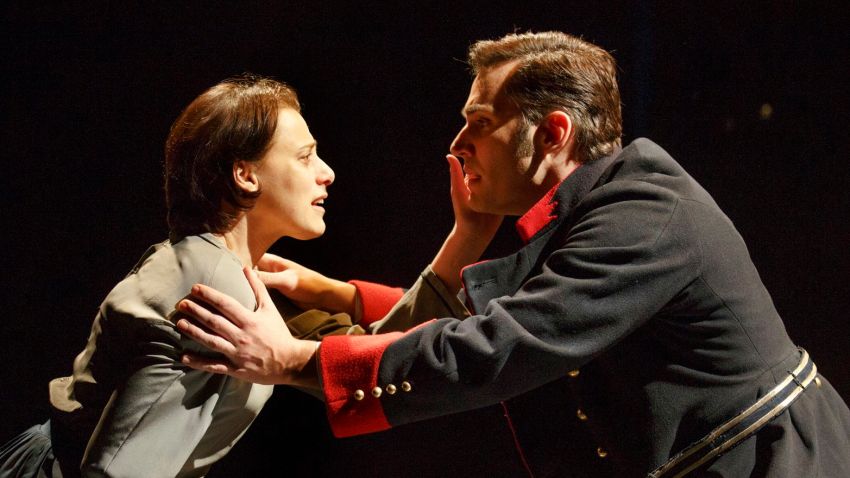 In the opening moments of the sad, searingly honest "Passion" revival that opened Thursday at the Classic Stage Company, we see a cadre of Italian military officers march onto stage. On the floor in their wake, a woman mounts a man, each in the throes of ecstasy.
It's a startling scene, without context, and one that prepares us for the equally raw displays of unguarded emotion to come in the first full New York revival of the Stephen Sondheim-James Lapine work that won the Tony for Best Musical in 1994. Starring Judy Kuhn (Broadway's original Cosette, in "Les Miz"), Melissa Errico ("Amour") and Ryan Silverman (a one-time Raoul in "Phantom"), the CSC's intimate staging is directed by John Doyle, who previously helmed the revivals of Sondheim's "Sweeney Todd" and "Company," though he does not employ his familiar actor-musician tactic here.
Set in 19th-century Italy, "Passion" concerns Giorgio, a young soldier, and the changes in him brought about by the obsessive love of Fosca, his superior's ailing older cousin. Giorgio has a beautiful mistress, Clara, but Fosca's desperate affection forces him to reconsider his initial assertion that "love's not a constant demand." "Passion" is a chamber piece; there are no breaks for applause after songs, which include the Sondheim standard "Happiness," and Fosca's lament, "I Wish I Could Forget You."
We're first introduced to Kuhn's Fosca audibly, as she wails in pain, offstage, spurring her cousin, Col. Ricci (Stephen Bogardus, a Lapine veteran dating back to "Falsettos") to apologize on her behalf: "I am so accustomed to her outbursts that I forget how unsettling they are to a newcomer." Admirers of the original Broadway staging of "Passion" (that is, the Donna Murphy loyalists) will find Kuhn haunting in her own right; the actress has had a decade to find Fosca's nuances, since she played the part previously during the Kennedy Center's 2002 Sondheim Celebration.
The most striking element of Kuhn's performance -- and you can find this appropriate or not, it didn't trouble me -- is how robust she comes across as a dying woman. We should all sing with such vigor and passion on our deathbeds. Particularly penetrating was her command of the song "I Read," Fosca's homage to escapism. Midway through "Passion," in a moment that parallels the unbridled lust of the opening scene, Fosca climbs atop Giorgio, but the scene is soon revealed to be a moment from Giorgio's nightmare: he's afraid she is dragging him along, down into her own grave.
If the earlier "Passion" was dominated by Murphy, this revival is more balanced, due largely to a winning turn by the soap opera-ready Silverman (the unrealized star of last fall's doomed "Rebecca") as the military officer enthralled by Clara's beauty, but unexpectedly compelled by Fosca's attraction. I wasn't wholly sold on Giorgio's transformation, as he shifts from being repulsed to seeing Fosca as an object of desire, though that's as much a function of the book as anything.
As Clara, Giorgio's beautiful mistress, Melissa Errico seduces with her voice as much as her body, communicating with her lover by heartfelt missive, even as she denies her full affections. The more Kuhn's Fosca stripped bare her feelings, the more I found myself viewing Errico's withholding Clara with a wary eye, as something close to a villainess, though nothing in the story directly speaks to such an interpretation.
Ann Hould-Ward's plain, monochromatic costumes capture Fosca's depression; she saves the vibrancy for Clara, whose corseted dresses accentuate Errico's sexuality. The set, designed by the director, is spare, a faux black marble inlay on top of the stage, and a wall of painted-black brick in the background.
The CSC's "Passion" is a moving, if off-putting glimpse at love shorn of its romance novel pretensions. Its protagonists are delicate, wounded, fragile and pained, unbalanced and ethereal. They see love, as Giorgio sings, as "not pretty or safe or easy." Sound about right?
"Passion," at the Classic Stage Company, 136 E. 13th St., through April 7. Tickets: $60-$75. Call 212-352-3101, or go to classicstage.org. Follow Robert Kahn on Twitter @robertkahn.