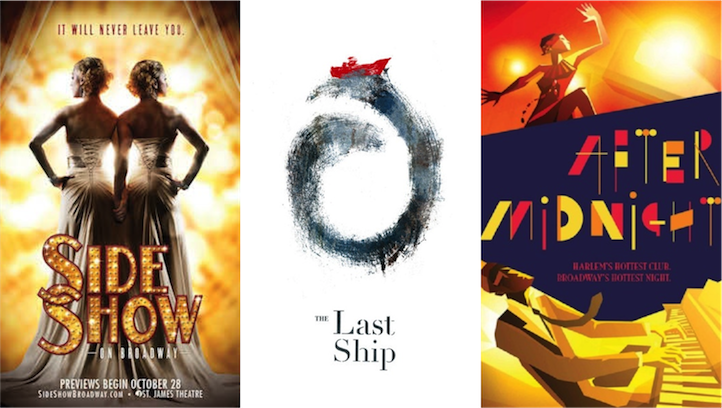 Broadway's supper club 54 Below is giving new life to three critically-acclaimed Broadway shows which recently closed: "The Last Ship," "Side Show" and "After Midnight."
The original cast and band of Sting's "The Last Ship," which closed Jan. 24, will reunite on March 2 for an evening celebrating seafaring songs.
"The Last Ship" star Michael Esper is expected to appear, alongside Fred Applegate, Sally Ann Triplett, Collin Kelly-Sordelet and Shawna M. Hamic, among others. They'll be singing cut material from "The Last Ship," as well as other seafaring songs, like "Beyond the Sea."
Proceeds for "The Last Ship" concert will go to Wallsend Boys Club -- an youth soccer club in the northern part of England founded by shipbuilders.
Erin Davie and Emily Padgett played conjoined twins in the recent revival of "Side Show," which closed on Jan. 4. The two starlets will hit the 54 Below stage on March 5 to perform hits from "Side Show" and other favorites from their careers.
A few days later on March 9, Davie and Padgett will reunite with Ryan Silverman, Matthew Hydzik, David St. Louis and other members of the "Side Show" cast for another tribute to the show. Joining them will be "Side Show" lyricist and book writer Bill Russell, who will serve as the evening's host, and composer Henry Krieger.
Expect to hear popular numbers from the show, as well as material unavailable on the upcoming revival cast recording, such as songs that were cut in out-of-town performances.
"After Midnight" was a 2014 Tony nominee for Best Musical, but unexpectedly closed on June 29, 2014. On April 3, the show's orchestra and cast will reunite for an evening of jazz standards infused with a modern R&B twist.
Carmen Ruby Floyd, Bahiyah Hibah, Dormeshia Sumbry-Edwards and Bryonha Marie Parham are just a few of the performers you can expect to see, all singing and dancing to songs by Duke Ellington, Stevie Wonder, John Legend and more.
Tickets for all four events are now on sale to the general public. For prices, showtimes and to purchase tickets, visit www.54Below.com.