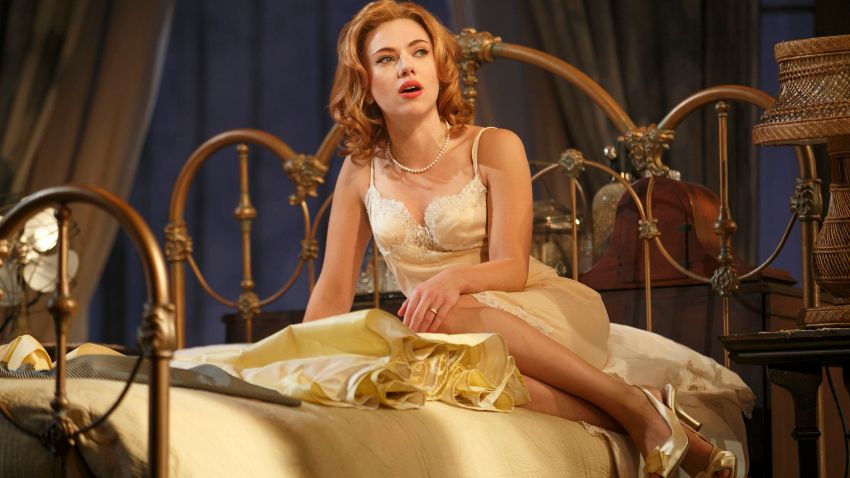 Scarlett Johansson returned to Broadway Thursday night as the star of "Cat on a Hot Tin Roof," the often-revived Pulitzer Prize-winning classic by Tennessee Williams.

Johansson, who won a Tony for her 2010 outing in "A View From the Bridge," plays the feisty, desperate Maggie "The Cat," whose husband shows her no interest and whose financial security is gravely in doubt.
That husband is Brick (Benjamin Walker, of "Bloody Bloody Andrew Jackson"), an aging, drunken football hero consumed by guilt over the death of his best pal, Skipper, who may or may not have been his lover. The play unfolds as "Big Daddy" Pollitt, the richest cotton planter in the Mississippi Delta, is about to celebrate his 65th birthday. Renowned Irish character actor Ciaran Hinds is Big Daddy, with Broadway favorite Debra Monk ("Curtains") as Big Mama.
Reviewers were largely in disagreement about the effectiveness of Johansson's performance, though most agreed the sound effects (fireworks, a summer thunder storm) were an unwelcome distraction from the performances at hand. Here's a sampling of what they said:
Ben Brantley, The New York Times: "Ms. Johansson, like Maggie, seems to possess a confidence that can turn raw nerves into raw power. ... Ms. Johansson confirms her promise as a stage actress of imposing presence and adventurous intelligence."
Thom Geier, Entertainment Weekly: "For a movie star with major sex-appeal, (Johansson) falls surprisingly short in seductiveness. Her Cat flashes her claws, but doesn't purr. Like Brick, who gulps liquor until he hears 'that little click in my head that makes me peaceful,' this production tosses back many an intoxicating individual moment without ever quite clicking."
Joe Dziemianowicz, Daily News: "Johansson is alarmingly one-note while delivering lines ... Director Rob Ashford, known for staging and choreographing musicals, does her no favors with a preposterous set by Christopher Oram. Gauzy and gargantuan, Brick and Maggie's bedroom (and adjoining bathroom with more steam than a rainforest) has an operatic scale that works against an intimate story and swallows everything whole, Johansson included."
Mark Kennedy, AP: "The creative team behind the Broadway revival of 'Cat on a Hot Tin Roof' has apparently concluded that Tennessee Williams' script needed more fireworks. So they went ahead and added them. They also added cap guns, the sound of crickets, musical crescendos, ringing telephones, chiming clocks, thunder crashes and a mind-boggling nine songs, some sung while the action is happening. One more song and this show might be classified a musical."