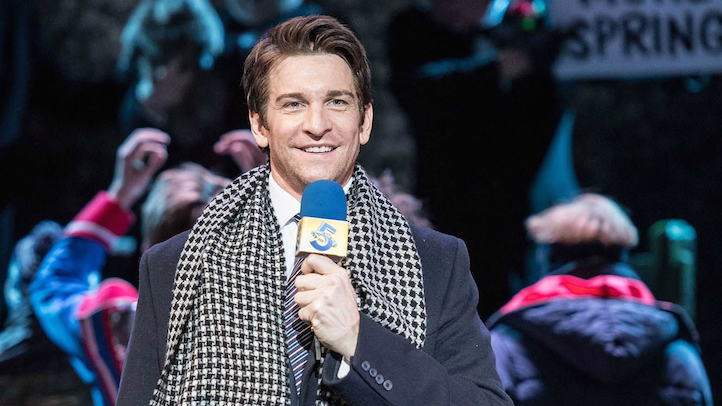 Andy Karl is returning to the new musical "Groundhog Day" just in time for its opening night.
The Tony-nominated stage veteran, who was injured during a preview performance on Friday evening, will perform in the production this evening, producers announced.
Karl, 43, tweaked his knee after a fall on Friday night, minutes before the show's second act ending, in what he called on Instagram a "poorly landed leap frog." He finished the performance despite his injury, with help from a makeshift cane, and was checked by a doctor where he was told he had no broken bones.
He told fans he planned to see a specialist before he returned to the show.
The Saturday matinee performance of "Groundhog Day" was canceled. Understudy Andrew Call filled in for Karl at the Saturday night performance.
"I love this show and this company and everyone that supports me more than you'll ever know," Karl wrote on Instagram Saturday. "#theshowmustgoon."
His accident came days after he was awarded the Olivier Award for Best Actor in a Musical. The London equivalent of the Tony Award, the prize went to Karl last Sunday for his role in "Groundhog Day" — which premiered at the Old Vic in the summer of 2016 to rave reviews.
NBC New York's theater reviewer Robert Kahn, who was at the show on Friday night, said seconds after the accident, actors were quickly asked to clear the stage — over loudspeakers — and the curtain came down.
One audience member in the second or third row responded to the theatre's call for medical assistance. He was back in his seat not soon thereafter.
During the curtain call bow, Karl was in tears. He received a standing ovation.
Adapted from the 1993 Bill Murray comedy, "Groundhog Day" tells the story of a cranky TV weatherman Phil Connors (Karl) who gets stuck in a time warp while covering the Groundhog Day ceremonies in Punxsutawney, Pennsylvania — reliving the same day over and over again until he gets it right.
It's score comes from "Matilda" composer Tim Minchin with a book from Danny Rubin, who also co-wrote the screenplay to the original film. Matthew Warchus directs.