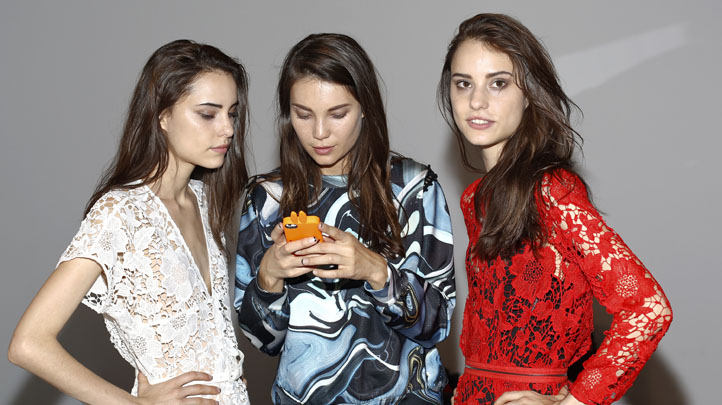 If your subway platform feels more like a catwalk (or if you have to elbow three camera-toting bloggers off their heels just to get your morning smoothie—OK, maybe that's just us), it's because New York Fashion Week has officially kicked off.
Even though the Lincoln Center shows don't get going until today, Wednesday's parties and presentations got attendees keyed-up for the long (and generally sleepless) week ahead. So, strap on your craziest kicks and stock your handbag with Band-Aids and Emergen-C: it's fashion time, folks.
- The crowd at VFILES wasn't the typical mix of black-clad editors and polished socialites. A cool collection of the site's online subscribers bopped in their seats to thumping hip hop and heavy metal mash-ups at the show. Determined by an online vote, the presentation introduced four major young talents to New York City: Sam MC London, Steven Tai, Ammerman Schlösberg and Gypsy Sport, with the latter showing "global gangster"-inspired caps with basketball shorts and sari-draped fabrics. [VFILES]
* For years, Rachel Comey has kicked off fashion week with her regular Wednesday runway show. This season, however, the downtown designer opted for an intimate dinner gathering at Red Hook's Pioneer Works, where guests supped on seared scallops and kale salad while enjoying Comey's latest ensembles. [T Magazine]
* To fete his new book, "The Asylum: A Collage of Couture Reminisces...and Hysteria," Barneys Creative Ambassador-at-Large, Simon Doonan, spilled his wildest NYFW moment to launch party attendees. Hint: it involves a caved-in ceiling at Michael Kors. [Stylecaster]
* You try and sleep on a stomach full of free champagne and cupcakes and not have nightmares. Editors at New York Magazine's The Cut are recounting their Fashion Week "stress dreams," and some of them are really weird. [The Cut]
* The CFDA offers designers in its incubator program a week-long, all-expenses paid "inspiration trip" (pretty sweet deal). For her voyage, Whitney Pozgay chose Bali, and even extended the trip to soak up a little extra inspo. The results? Punchy tropical patterns, breezy sundresses and a top-notch parrot print. [Style.com]
* Fashion insiders were tweeting up a storm about Charles James, the subject of the Met's next Costume Institute Exhibit. Truth be told, we hadn't heard of ol' Charlie, which is why we were especially appreciative of Fashionista's comprehensive gallery on the guy. [Fashionista]
For the latest on NYFW, follow @blairpfander and check our special Fashion Week section for daily updates.