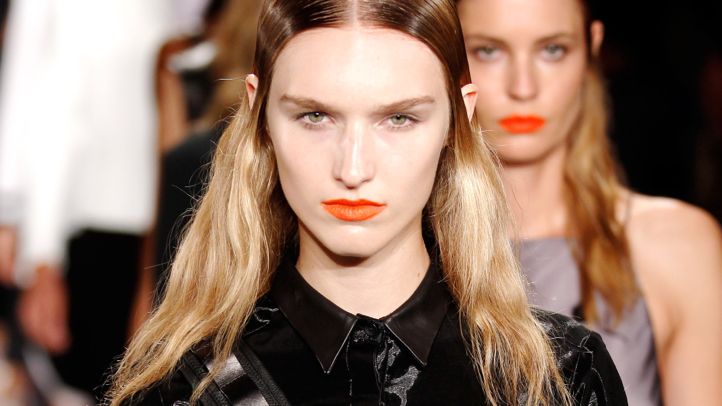 The latest buzz from the Lincoln Center tents.
* For Rag & Bone's Spring '14 collection, Revlon global artistic director, Gucci Westman, gave models a super-saturated orange pucker. The look, she said, was meant to convey a general tough 'tude. As she told The Cut, "It says, 'I'm so tough, I'm such a bitch.'"

* J.Crew's head of womens design, Tom Mora, filled out a Fashion Week mad lib for Fashionista, in which he hinted at a tropical surf theme for the brand's spring '14 showing.
* Coco Rocha starred in a conceptual dance performance "holograph" for Lexus Design Disrupted at Milk Studios. The show, which featured the red-haired model in a long white gown by Giles Deacon, was choreographed by Ke$ha's Ryan Heffington and drew a star-studded crowd that included A-listers Sarah Jessica Parker and Mary-Kate and Ashley Olsen. [Fashionista]
* Ever wonder what Beavis and Butthead would like like in high fashion? Neither had we, but illustrator Michelle Moricci took it upon herself to draw various beloved '90s cartoon characters looking swagged-out at the tents. Lisa Simpson got a look from Marc Jacobs, while MTV's Daria (whose combat boots and mini skirts continue to influence outfit choices today) looked downright chic in Prabal Gurung. [Complex]
* Front row goodie bags aren't the only things being pilfered, it seems. Victoria Beckham, who will show her eponymous collection on Sunday, Instagrammed a picture of a lonely bike wheel and padlock with the caption "So I won't be riding home tonight then!" While we can't really imagine the ultra-chic designer pedaling down Fifth Ave., it's good to see she still has her fashion week sense of humor. Welcome back to New York, Posh!
For the latest on NYFW, follow @blairpfander and check our special Fashion Week section for daily updates.