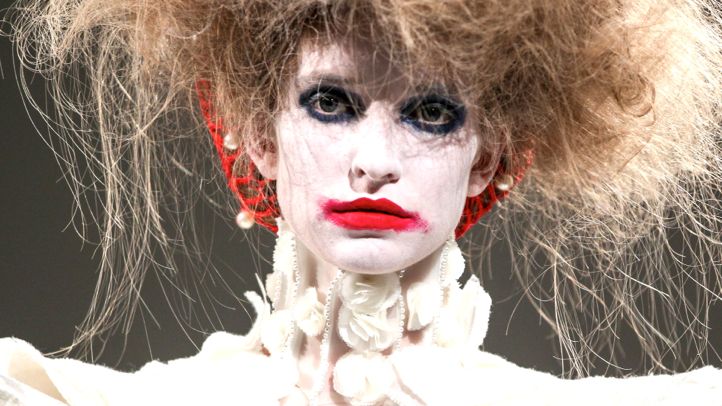 The buzz from the tents at Lincoln Center.
* If you didn't already feel like you were losing your mind on Day 5 of Fashion Week, you did after Thom Browne's show. Taking a decidedly Halloween-y approach to spring, the designer outfitted his set to look like an insane asylum, complete with hanging cadavers, padded walls and repeating piano tunes.
* Miley is the new Fashion Week ice-breaker. It seems everyone has an opinion about the tongue-wagging starlet's new "Wrecking Ball" video, which was directed by risque photographer Terry Richardson. [Fashionista]
* We hope you didn't put your handbag on the floor at the 3.1 Phillip Lim's spring '14 show. For a twinkling geode effect, the ground was covered in crunchy salt crystals.
* Lady Gaga's NYFW ensembles have been weird—even by Gaga standards. Yesterday, the diva left her building clad in a full face mask. At least, we think it was her...it could be a very clever, swagged-out imposter. [Stylecaster]
* Taylor Momsen, looking refreshingly natural with a pulled-back pony tail and pointy stilettos, reunited with her TV step-mom Kelly Rutherford at the Alice & Olivia presentation yesterday.

* We were already missing the beach. Tommy Hilfiger trucked in tons of sand to transform Pier 94 into a sandy beach boardwalk furbished with surf-boards and sprays of grass. [Style.com]
For the latest on NYFW, follow @blairpfander and check our special Fashion Week section for daily updates.