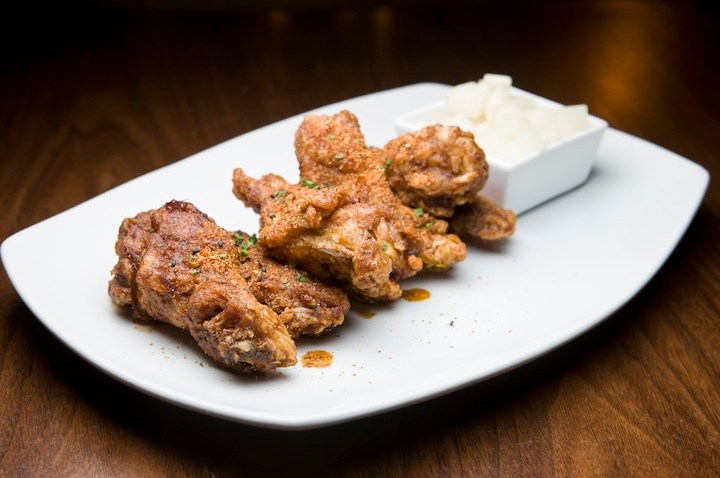 Chef Sean Olnowich of Bounce Sporting Club shares his recipe for 10 Spice Koreatown Chicken Wings.

INGREDIENTS

1 lb. split jumbo chicken wings
½ cup of cornstarch
frying oil, peanut or soybean – enough to fill a 8 qt saucepan half way

For spice blend – 1 tbsp of each, except where noted, when whole, all lightly toasted and ground in a coffee grinder
1 tsp whole cloves
cinnamon sticks
star anise
fennel seed
szechuan peppercorns
coriander seed
ginger powder
cardamom pods
cumin seed
turmeric

For sauce:
1 tbsp gojujang paste (fermented Korean chili paste)
1 tbsp sambal oelek (Indonesian style ground chili paste)
3 garlic cloves, smashed
½ cup fresh ginger, chopped
1 tbsp tamarind pulp
2 cups soy
3/4 cup rice wine vinegar
1 tsp brown sugar
¼ cup sesame oil

1 tsp black sesame seed
orange zest from 1 orange
1 tsp shichimi togarashi pepper (Japanese 7 flavor chili pepper powder)


DIRECTIONS

Heat oil until a deep fry thermometer reads 375 degrees.

Toss the chicken wings in cornstarch and place chicken in oil, until cooked ¾ of the way through, about 8 minutes. Take the chicken out of the oil and let cool on a small sheet pan with a wire rack.

In a medium saucepan, add all of the sauce ingredients except the sesame oil, and cook on low to medium heat for 20 minutes to reduce. Pour the "sauce" into a blender top and blend on high speed. With the blender still running, add the sesame oil in a slow steady stream until it's incorporated.

Place the chicken back in the hot oil and finish frying until cooked through and crispy, about 5 minutes. Take the chicken out and let the oil drain off. Place the chicken into a large bowl and add the 10 spice mix, orange zest, and the sauce and toss to coat.

Place the chicken on a platter and top with black sesame seeds and the togarashi pepper blend and serve.
Copyright LXTVN - LXTV