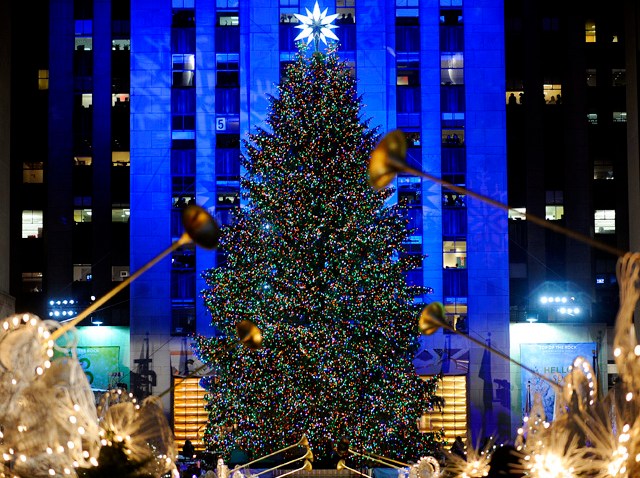 One might think that Santa is visiting next week, considering we've all been seeing commercials for Christmas deals since before Halloween. However, the holidays officially arrive tonight with the Rockefeller Plaza tree lighting! With guests like Justin Bieber, things are shaping up to be wonderfully claustrophobic! The lights go on between 7PM and 9PM, and I get to watch from the comfort of a co-worker's office. Its going to be great.

However, if you don't work in my building at 30 Rock and you want a good spot, you should have started waiting yesterday. But you better not cry, because its New York! Around this time of year, you can barely go a city block before stepping in a ominously brown puddle of yuletide cheer! If you can't make it to the lighting tonight, try some of these other venues:

South Street Seaport
Between the 25th of November and Xmas, the smell of fish and the sounds of carolers will be wafting through the air. See the Young New Yorker's Chorus or Cantinori New York throughout the month. (Also, if you don't celebrate this time of year, they also have that creepy Bodies exhibit and an Uno's.)

Central Park
Aside from the fact that Central Park is never more gorgeous than when it snows (I'm talking about during the snow, not two days after when everything is slush and it's like a frozen wet hell in NY), they also have Christmas at the Central Park Zoo! Visit Gus, the New Yorker polar bear, or skip over to Belvedere Castle to make Christmas ornaments!

Saint John The Divine's Winter Solstice
An alternative to Radio City, this Christmas show is a wonderfully secular celebration of the season. If you're not intimidated by churches or a rampant sinner bound for flames, take your family to this spectacular show.

Occupy Wall Street
Go down there and gives those guys a blanket. It's going to get cold outside, and it is the season of giving after all.
Copyright LXTVN - LXTV