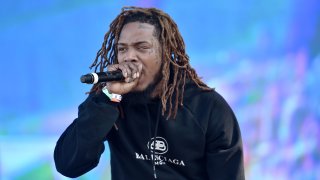 Fetty Wap is opening up about his devastating loss. Following the heartbreaking news of his 4-year-old daughter Lauren Maxwell's passing, the 30-year-old rapper paid tribute to her memory during an Instagram Live on August 2.
In a video reshared to other social media platforms, the "My Way" artist is seen holding and kissing a picture of his daughter after confirming the sad news to his fans. In the short clip, the vocalist is also heard asking viewers to comment on the Instagram Live with "all butterflies" in her honor, citing that the animal was something "she loved."
"If you could do that," Fetty shared in the clip. "That would mean a lot to me." Neither the cause of death nor the exact date of the toddler's passing have been publicly shared.
E! News has reached out to Fetty Wap's team and has not heard back. The heartbreaking news was first publicly announced on Saturday, July 31 in an Instagram post shared by Lauren's mother, Turquoise Miami. The post included footage of Lauren playing around while in a swimming pool.
Celebrity Deaths: 2021's Fallen Stars
"This is my amazing, beautiful, funny, vibrant, loving, talented, smart and hardheaded princess mermaid Aquarius," Turquoise captioned the July 31 post. "If you see this post scrolling by with her comment or just say to yourself 'i love you LAUREN' because they say that souls can feel your love #rip."
She then shared a message to her Instagram Story asking fans to be "compassionate" towards the rapper on August 3.
"All that y'all need to know is Lauren loved her daddy and he loved her," she wrote. "She made him laugh with her crazy funny personality and she loved to be the center of attention and he loved to be her audience. It couldn't hurt some of y'all to be a little bit more compassionate, you don't have to kick a man while he's down."
Lauren's mother added, "Losing a child is as down as it gets."
Copyright E! Online