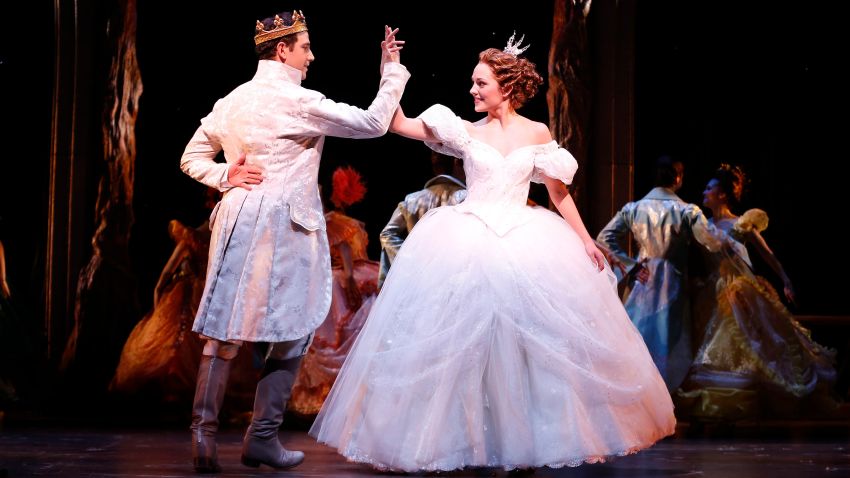 A vibrant take on Rodgers and Hammerstein's "Cinderella" opened Sunday night at the Broadway Theatre, with Laura Osnes ("Grease") as the maid-turned princess and Santino Fontana ("Billy Elliot") as her modern prince.

Tony winners Victoria Clark ("The Light in the Piazza") and Harriet Harris ("Thoroughly Modern Millie") are featured in appealing roles -- Clark as the fairy godmother, Marie, and Harris as Cinderella's wicked stepmother.
While Douglas Carter Beane's updated book adds a few twists to the makeover story -- you'll feel more affection than animosity for the stepsisters, played by Marla Mindelle ("Sister Act") and Ann Harada ("Avenue Q") -- the classic elements remain, including "Impossible/It's Possible," which has Osnes, her pumpkin, pets and wardrobe transforming before the audience's eyes.
Here's what some of the New York critics had to say:
Ben Brantley, The New York Times: "To my surprise, the Academy Awards came to mind quite often as I watched this glittery patchwork of a show ... It wasn't just the parade of big-skirted, Technicolor dresses in the ball sequence that inspired such reflections. No, the main and most affecting parallel is how these two productions were confronting the knotty problem of being both traditional and up to date in a culture that has no tone to call its own."
Jessica Shaw, Entertainment Weekly: "In this version, Ella boasts both brains and reddish-brown hair, and wants to go to the ball to speak to the prince on behalf of the poor people in his kingdom. That prince? Not just some dashing heir. Here, (he) wears an emo-crown and angsts over being at the ball, saying, 'Events like this...I just feel like, what am I doing here?'''
Mark Kennedy, Associated Press: "Beane has had to be limber on this one: Keeping the elements of the classic story -- those pumpkins and glass slippers need to be there -- while making it relevant and not-too-twee for adults, too. (He) has succeeded, proving he may be Cinderella's real fairy godmother."