Some social media users are telling supermodel Gigi Hadid to stick to her day job.
Hadid, who along with former "Saturday Night Live" cast member Jay Pharoah hosted Sunday's American Music Awards, is taking fire for impersonating future first lady Melania Trump during the opening minutes of the broadcast.
Puckering her lips and speaking with a thick foreign accent, Hadid took shots at Melania Trump for her alleged plagiarizing misstep during the Republican National Convention.
"I love my husband...President Barack Obama..and our children, Sasha and Malia."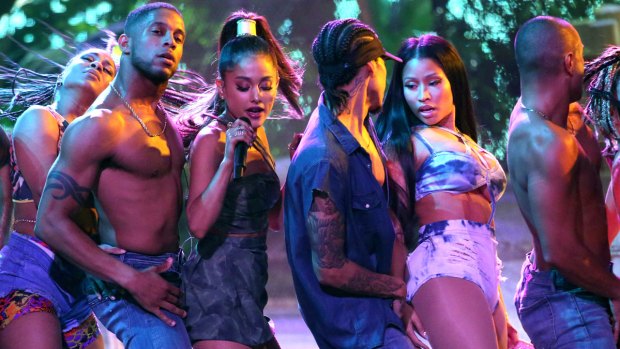 2016 AMAs: Top Moments, Best Red Carpet Looks
Some condemned the impression as simply unfunny, while others went a step further, claiming it was racist.
@GiGiHadid Not only R U classless &your impression was racist & tasteless, but when it comes 2 Class & Beauty, Ur not in Melania's League!

— Travis Viau (@TheWrightViau) November 21, 2016
@Varneyco Gigi Hadid cannot shine Melania's shoes as Gigi lacks the BRAINS & BEAUTY!

— Mary Kelly (@CaseyCodey) November 21, 2016
FYI Gigi.No matter how u try u will never have the Beauty,style,Grace or class of Melania Trump#Love#MAGA pic.twitter.com/NXEsWHqozd

— Donna Hallabuk (@gracy69epixnet) November 21, 2016
Gigi Hadid's impersonation of Melania Trump was racist af..

Trying to mock Trump but stooping as low as him..

— Isra (@IsraSaudulla) November 21, 2016
Why did Gigi Hadid think it was even remotely funny or appropriate to mock Melania and her Eastern European accent at the AMAs?

— Else (@iamelse) November 21, 2016
anyways, did gigi REALLY have to make fun of melania's accent & face/face expression/whatever?! TRASH.

— patrycja (@buterasivan) November 21, 2016
@GiGiHadid@MELANIATRUMP no class! Making fun of her accent? Tasteless! How many languages do you speak Jelena? Melania is beautiful.

— edward rojas (@miamirjs) November 21, 2016
Hadid had not responded to the backlash as of Monday morning.