Two steaming piles of Oscar bait lead the way this week, but there's still a great doc about Elmo, an acclaimed Dickens adaptation and a sinking boat to be seen,
Angel's Crest
Thomas Dekker stars as a young man struggling with the guilt of having left his son unattended long enough for the boy to wander off into the woods and freeze to death. Watch the trailer
Ayn Rand & The Prophecy of Atlas Shrugged
Remember when the economy went into the toilet a few years ago? And lots of people blamed it in part on Ayn Rand's philosophies? This new documentary flips the script, arguing that she tried to warn us about what was coming. Watch the trailer
Being Elmo: A Puppeteer's Journey
This doc follows Kevin Clash from a boyhood of puppetry to a career as the man behind one of the most beloved Muppets of his day. Watch the trailer
"We Bought a Zoo"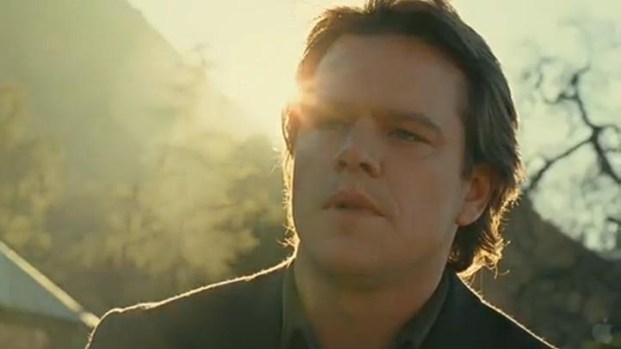 Chasing Madoff
The true story of Harry Markopolous, the man who says he uncovered Bernie Madoff's scams more than a decade ago but was completely ignored by the SEC. Watch the trailer
Great Expectations
Gillian Anderson stars as Charles Dickens' classic spinster, Miss Havisham, in this BBC retelling of this story about the tortured love between a poor boy and a wealthy girl. Watch the trailer
In the Land of Blood and Honey
From first time writer-director Angelina Jolie comes this relentlessly bleak story about a Muslim woman and a Serb soldier torn apart by the Bosnian War, only to be reunited at the rape camp where she's being held, one that he happens to run. Watch the trailer
Titanic: 100th Anniversary Collection
The film that made Leonardo DiCaprio and Kate Winslet super famous, follows two star-crossed lovers on a doomed boat--watch it again before you watch it again in 3-D tomorrow! Watch the trailer
Tyrannosaur
Paddy Considine writes and directs his first feature, about a man prone to violence who's determined to change his ways after killing his dog in a fit of rage. He soon strikes up an unlikely friendship with a local shop owner known to be a respectable woman, but who turns out to have a dark secret of her own. Watch the trailer
War Horse
From director Steven Spielberg comes an adaptation of the story of a young boy and his horse, who are torn apart by World War I, but never give up on each other. Read our theatrical review and watch the trailer
We Bought a Zoo
Matt Damon stars in this new film, from director Cameron Crowe about a widower raising a family who quits his job and buys a zoo. Co-stars Scarlett Johansson, Elle Fanning and Thomas Haden Church. Read our theatrical review and watch the trailer