Monday, Mar 29, 2010 | Updated 3:05 PM EDT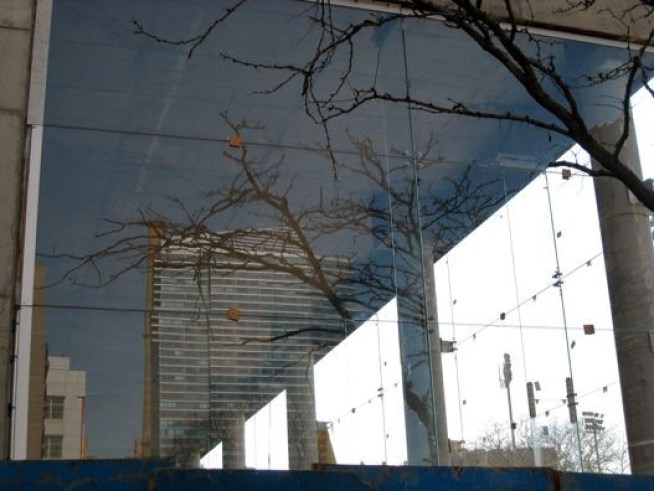 Clinton Park, the crazy ziggurat of luxury rentals planned for the northwest corner of Hell's Kitchen, is partially on hold but that's not stopping developer Two Trees Management from readying its lower levels for the mega-Mercedes Benz emporium set to open there in 2011. Expanses of glass rise from sidewalk to ceiling and now enclose a couple sides of the base at the corner of Eleventh Avenue and West 54th Street, reflecting the trees of De Witt Clinton Park and promising wide-open displays of German engineering.
The design from Enrique Norten and the gang at TEN Arquitectos looks simple enough, with the mega-panes attached by strapping stainless steel struts to a row of exposed trunk-like concrete columns. Still to come up above is white metal cladding with off-set windows that will cover what's been built of the tower's base. Stubs up top, now protected by plywood covers, will one day support the S-shaped terraced towers, future home to some 675 apartments with river views. Also moving forward along the West 53rd Street side is the future home of the NYPD's Troop B Mounted Unit, a two-floor, 36,000-square-foot facility with horse stalls, showers and shoeing room. At this point it's not clear when the horses will be moving in, but Clinton Park will soon enough be offering a plethora of transportation options.