Atlantic Yards Going SHoPping for New Arena!
Thursday, Sep 3, 2009 | Updated 12:45 PM EDT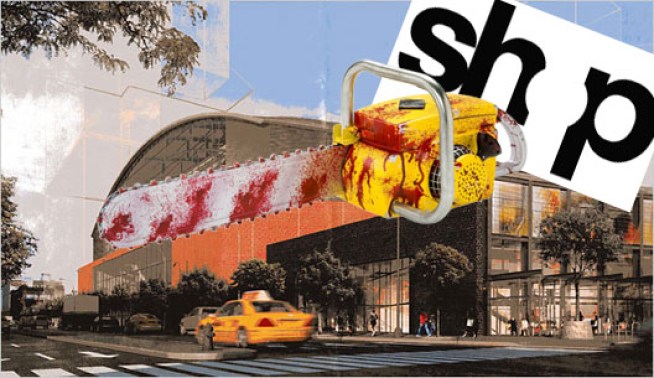 Renderings by Ellerbe Becket
Atlantic Yards developer Bruce Ratner has been taking a beating ever since he booted starchitect Frank Gehry off his controversial Atlantic Yards megaproject and swapped out the Gehrmeister's Barclays Center arena for a cheapo design from Midwest hacks Ellerbe Beckett (complete coverage here). Now Ratner is looking to save a little face, at least when it comes to architecture geeks. The Observer drops the bombshell that Ratner has brought aboard NYC-based rising starchitects SHoP to assist in the design of the arena. Desperation? Ellerbe Beckett's design has been widely panned by even Ratner's politician buddies, and renderings of the new-look $800 million Barclays Center are due at the end of the month. Still, it's up to SHoP to save us from The Hangar. Can they do it?
The Observer points out that the relatively young SHoP has no experience building large arenas, but the firm does have experience designing megaprojects—such as the South Street Seaport redevelopment plan. Which, uh, will never happen, but maybe it gave SHoP the chops to deal with another sensitive site. Above, we've picked some notable designs from the Curbed favorites over the years, with a focus on projects in NYC. Sharples, Holden & Pasquarelli—Godspeed, amigos.