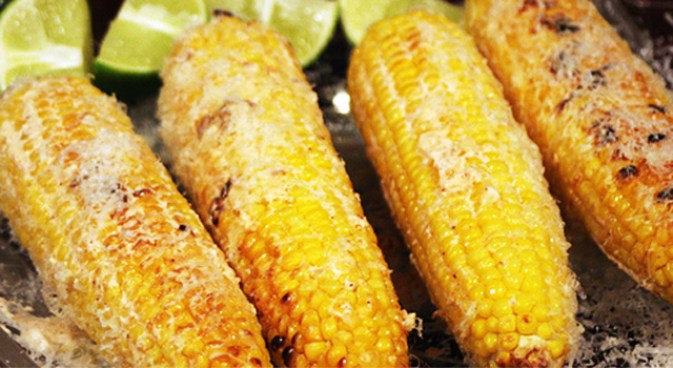 maggiephotos//Flickr Creative Commons 2.0
One of our favorite Calexico offerings is the grilled corn. Woof.
We may sound like we're compensating here, but one of the great things about living in a place where almost no-one has an outdoor space for grilling is how it gives rise to grand, bacchanalian communal barbecue events. Case in point: Returning this summer is the Finger on the Pulse music & BBQ series, with its inaugural installment going down at Williamsburg's Hope Lounge tonight.
The music will be great: peppy DJs like Lauren Flax (who's toured with Fischerspooner) will be on hand, and Finger on the Pulse are no slouch -- they just came off spinning for the Topshop launch party. But we're also going for the food: The eminently crushworthy Calexico taco truck is dispatching staff to grill up Cali-Mexican eats at a paltry $5 a plate. (It'll have to do until Calexico's brick-and-mortar restaurant finally opens in Red Hook later this summer.) And finally, have we mentioned Hope Lounge's glorious backyard (yes, even in this weather) and cherry margaritas?
Details:
Finger on the Pulse Summer BBQ Series Kickoff
Weds. 5/27 7-10PM
Hope Lounge, 10 Hope Street at Roebling, Williamsburg (718) 218-7191
Free
More Info: Website