"Lurid Pulp!": An Interactive Burlesque Murder Mystery
"Clue" goes cabaret at this throwbacky, tassel-twirling downtown hybrid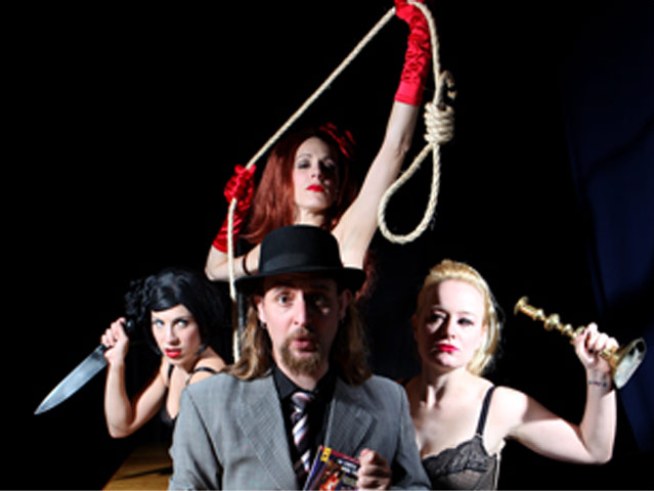 Don Spiro/Lurid Pulp!
Jonny Porkpie and a bevy of dangerous burlesque beauties in "The Corpse Wore Pasties".
"Burlesque Mayor of New York City" Jonny Porkpie (real name: Jonathan Van Gieson) has penned a novel, and not just any novel -- a lurid, tongue-in-cheek pulp tale set in the world of burlesque, titled "The Corpse Wore Pasties", out a couple of days ago from cult indie imprint Hard Case Crime. If you don't know about Hard Case, you're in for a treat: They're singlehandedly revitalzing the pulp genre, publishing original work from the likes of Stephen King and Mickey Spillane behind those iconically seamy painted covers.
Even better? Saturday night's "LURID PULP!", an interactive-murder-mystery-book-release-party-burlesque-show, based on the novel, at the Bleecker Street Theatre. The plot is all very meta: On the eve of the book's publication, a burlesque book party celebration is in full swing -- until the show's performers get their first look at the tome and recognize disturbing similarities between themselves and the book's characters. Naturally, sordidness ensues: Tempers flare, bodices rip, and Porkpie ends up dead. The audience is enlisted to help detective (and b-q dancer) Nasty Canasta uncover the murderer before the final curtain. Bonus! The murder mystery show includes all the striptease numbers described in the book performed live, including by the book's two cover models, Canasta and GiGi LaFemme. This, people, is why you live in New York City.
Details
Pinchbottom Burlesque presents LURID PULP!
November 28, 8PM
Bleecker Street Theatre, 45 Bleecker Street; 212-260-8250
$20 (or $25, including a copy of "The Corpse Wore Pasties")
More information and tickets here